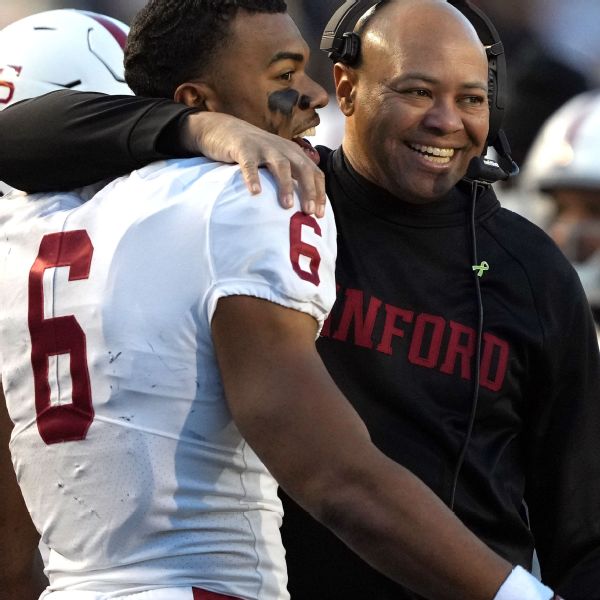 Former Stanford coach David Shaw interviewed Wednesday with the Denver Broncos regarding their vacant head-coaching position, sources told ESPN's Adam Schefter.
Shaw spent nine years in the NFL, from 1997 to 2005, with the Philadelphia Eagles, then-Oakland Raiders and Baltimore Ravens, and is considering a return to the pro game after resigning in November after 16 seasons at his alma mater.
Shaw, 50, announced his decision in November, a day after a 36-25 loss to BYU in the Cardinal's season finale. The loss capped Stanford's second straight 3-9 season, and it wrapped up a 14-28 stretch since the start of 2019.
"I prayed about it, I thought about it," Shaw said at the time. "With every hour, it seemed it was more cemented in my head. The phrase that kept coming to me is: 'It's time.'
"I am not burnt out. I'm healthy; I feel good. But 16 years is a long time. Sixteen years of running a program, 16 years of being responsible for everything and everybody catches up to you."
Shaw was an assistant coach for four seasons with the Cardinal before being promoted. He is the winningest coach in Stanford history with a 96-54 career record across 12 seasons. But the Cardinal went just 3-16 in Pac-12 play the past two seasons, including consecutive losses to rival California.
"There are a lot of people who think this program is down. That's what our record says," Shaw said. "But I look at the components. I look at the people here, the support that I'm hearing coming from our athletic director, from our university president, the people that are behind the scenes. We're not that far away."
The Broncos fired Nathaniel Hackett on Dec. 26 after a 4-11 record in his 15-game tenure. Denver finished the season 5-12.
Broncos owner/CEO Greg Penner promised the day after Hackett was fired to lead a comprehensive search that would include coaches with head-coaching experience as well as candidates who had not yet been head coaches.
"We've got to get this right," Penner said.