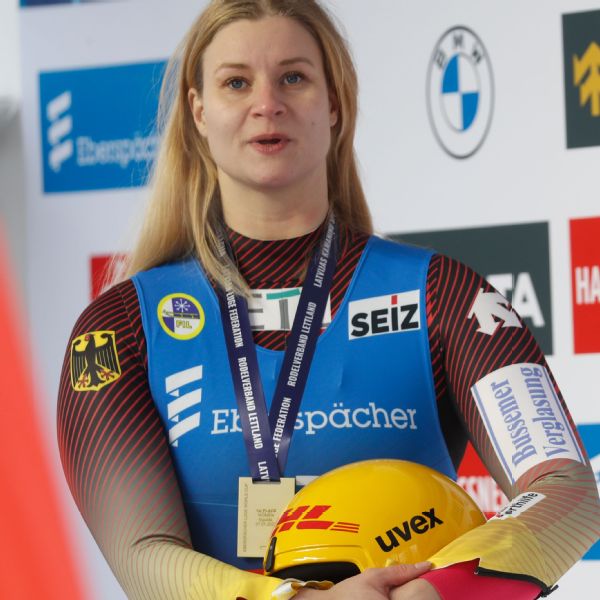 SIGULDA, Latvia — Dajana Eitberger of Germany won the women's luge World Cup race Saturday, and host Latvia swept the gold medals in the men's and women's doubles races.
Eitberger got her second win of the season, in 1 minute, 22.999 seconds, about a hundredth of a second better than Latvia's Elina Ieva Vitola (1:23.093). Germany's Julia Taubitz was third in 1:23.143 and kept her lead in the World Cup season standings.
Ashley Farquharson was the top US finisher, placing 10th. Summer Britcher tied for 12th, Brittney Arndt was 14th and Emily Sweeney — fourth after the first heat — had trouble in the second run and finished 17th.
USA Luge got its fifth World Cup luge medal of the season later Saturday, with the women's doubles team of Chevonne Forgan and Sophie Kirkby winning silver.
Latvia's Anda Upite and Sanija Ozolina won the doubles race in 1:24.916. Forgan and Kirkby were second in 1:25.138 and Germany's Jessica Degenhardt and Cheyenne Rosenthal were third in 1:25.261. Only six sleds finished in the race.
In the men's doubles race, Latvia's Martins Bots and Roberts Plume had the best time in both heats and finished in 1:22.642.
Germany's Tobias Wendl and Tobias Arlt were second in 1:22.798, while Italy's Emanuel Rieder and Simon Kainzwaldner were third in 1:23.024. Zack DiGregorio and Sean Hollander were the top US men's doubles sled, placing eighth.