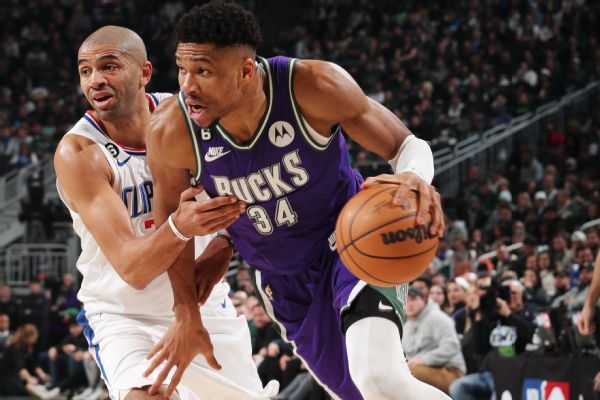 MILWAUKEE — Giannis Antetokounmpo scored 20 of his 54 points in the fourth quarter, and the Milwaukee Bucks overcame a 21-point deficit to beat the LA Clippers 106-105 on Thursday night for their sixth consecutive victory.
Antetokounmpo also had 18 rebounds. The Greek star reached the 50-point mark for the third time in his past 11 games. He had a career-high 55 on Jan. 3 against Washington and scored 50 in only 30 minutes Sunday against New Orleans.
The Clippers lost for the second time in eight games and failed to capitalize on a couple of Milwaukee turnovers in the closing seconds. Kawhi Leonard missed an 18-footer in the final second while being guarded by Wesley Matthews with help from Pat Connaughton.
Antetokounmpo made two free throws with 1:47 remaining to put the Bucks ahead 106-105, giving them their first lead since the second quarter. Leonard missed a 12-footer and Paul George had an air-ball on a 3-pointer on the Clippers' next two possessions.
George stole the ball from Jrue Holiday, and the Clippers called a timeout with 27.1 seconds left, but Leonard missed a jumper. Antetokounmpo got the rebound but threw the ball out of bounds, giving Los Angeles possession with 15.1 seconds left.
The Clippers again got the ball to Leonard, who missed once more.
Norman Powell scored 26 points to lead the Clippers. Leonard had 17 points, 11 rebounds and five assists, but shot 7-of-26. Marcus Morris Sr., in his return after missing four games with a bruised rib, and George had 16 points each. Ivica Zubac had 12 points and 13 rebounds.
Khris Middleton had 16 points and Holiday added 12 for the Bucks. Holiday missed his first eight shots and didn't get his first basket until late in the third quarter.