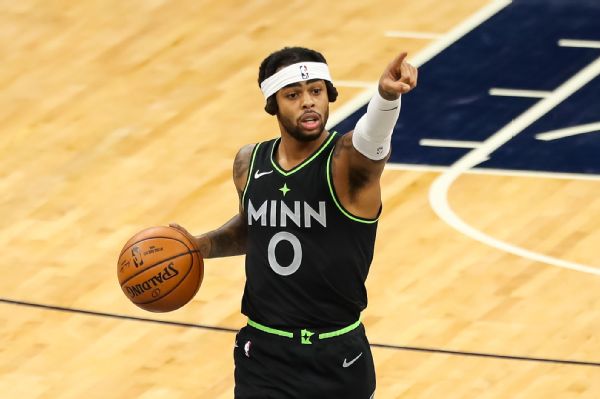 The Los Angeles Lakers have agreed to a deal to land Minnesota's D'Angelo Russell, Malik Beasley and Jarred Vanderbilt in a three-team trade also involving the Utah Jazz, sources told ESPN's Adrian Wojnarowski.
In the trade, the Timberwolves will receive guards Mike Conley and Nickeil Alexander-Walker and picks, while the Jazz will receive Russell Westbrook, Juan Toscano-Anderson, Damian Jones and a 2027 Lakers first-round pick, sources said. The Lakers' pick to the Jazz is top-four protected.
All players involved have been notified about the trade, including Westbrook, according to sources.
Russell, 26, is averaging 17.9 points and 6.2 assists while shooting 46.5% from the field, including 39.1% from 3-point range.
After a rocky start to the season combined with the loss of Karl-Anthony Towns to a calf strain in late November, Russell helped steady the ship and keep Minnesota in the mix of a competitive race in the middle of the Western Conference.
He's averaging a career high in field goal percentage, 3-point percentage and free throw percentage this season. He's also finishing at an elite rate — his 65.4% shooting on layups and dunks this season ranks in the top 10 among guards (minimum 125 field goal attempts).
But with Russell heading into the final year of his deal and the continued emergence of Anthony Edwards, Minnesota decided to move in another direction.
This will be Russell's second stint with the Lakers. He was drafted No. 2 overall by the team in the 2015 NBA draft and played two seasons for Los Angeles before being traded to the Brooklyn Nets in June 2017.
Russell has played for five teams in eight years; he has yet to complete three seasons on the same team thus far in his NBA career.
Westbrook's tenure in LA ends less than two years after the Lakers acquired the former MVP in the hopes of vaulting the franchise back into title contention. However, injuries and a poor on-court fit among Westbrook, LeBron James and Anthony Davis led to the Lakers missing the postseason last year and have them in danger of doing the same this season.
Westbrook, 34, now moves to his fifth team in as many years after a decorated 11-year stint in Oklahoma City that saw him make eight All-NBA teams and win the MVP in 2017.
Westbrook can still fill up the stat sheet in his 15th NBA season; he's one of just six players to have at least four triple-doubles this season. But with his move to the bench this year, Westbrook's overall production has dipped from his career norms — he's averaging 15.9 points, 6.2 rebounds and 7.5 assists. His 41.7% shooting is in the bottom 10 among players averaging at least 12 field goal attempts this season.
Westbrook is in the final year of the five-year, maximum extension he signed with the Thunder back in 2017. He is set to become an unrestricted free agent this summer.
Conley, 35, is one of the last remaining players from the Donovan Mitchell and Rudy Gobert era in Utah and has helped lead the Jazz to a surprising spot in the play-in race.
The veteran point guard is averaging 10.7 points per game this season, the lowest since his rookie season, but also a career-high 7.7 assists.