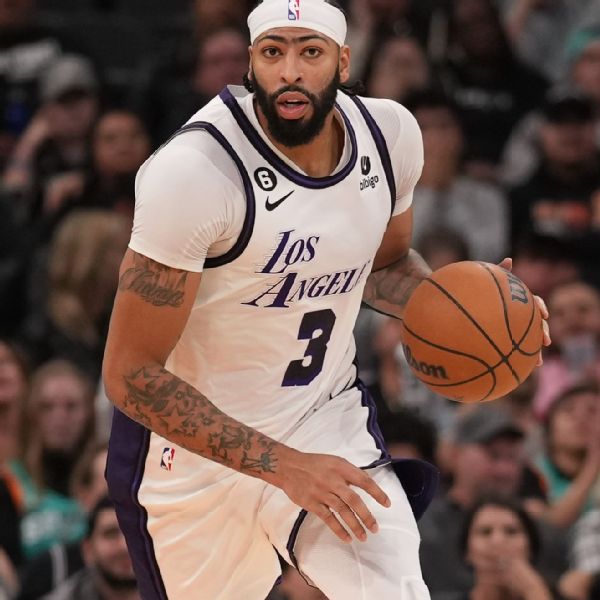 SAN ANTONIO — Los Angeles Lakers star big man Anthony Davis is sitting out Saturday's game against the Spurs because of a left calf contusion.
"He was kicked at some point in the second half [Friday] night and it's a little irritated, a little bruising," Lakers coach Darvin Ham said before the game. "So just trying to stay ahead of it and be a little cautious and take our time with it. But he's out."
Thomas Bryant started in his place.
Davis had 25 points, 15 rebounds and 3 blocks in Los Angeles' win over San Antonio on Friday, continuing a hot stretch in which he has averaged 33.4 points on 64.4% shooting, 17.6 rebounds and 2.6 blocks in his last five games.
"Just it being a back-to-back, the load he was carrying, specifically with [LeBron James] out, it's just the smart and right thing to do," Ham said of the decision to rest Davis. "We don't want to push him this early in the season. And when you're talking about different muscles and ligaments, it's something that can easily turn into a year-long issue. So just to avoid that, we don't want to put any additional strain on the area.
"The medical people decided it was the right thing to do and I totally agree."
After missing more than half of the Lakers' games the last two seasons due to various injuries, Davis stated during training camp that his goal for this season would be to be able to play all 82 games.
Saturday is the Lakers' 18th game of the season and it will be the second one that Davis has missed. He also sat out Oct. 28th against the Minnesota Timberwolves because of lower back tightness.
Ham added that James, who missed five games with a left groin strain before returning Friday, would play Saturday.