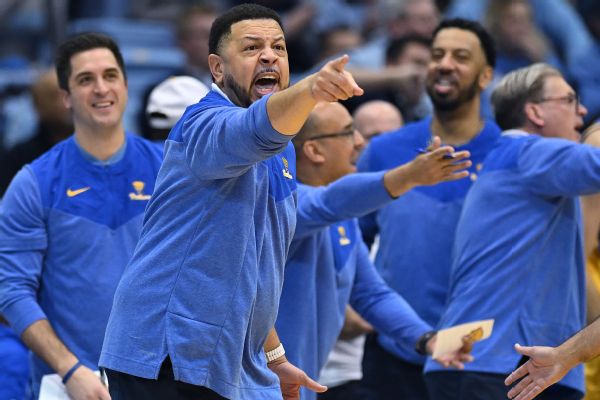 Pittsburgh coach Jeff Capel, following his team's 65-64 win at North Carolina on Wednesday, spoke out about the Tar Heels fans' treatment of his brother and current Panthers assistant, former UNC standout Jason Capel.
Jason Capel, who averaged 12.1 points in four years at North Carolina (1998 to 2002), was booed by UNC fans after the game, which completed a season sweep for Pitt.
In a video reviewed by ESPN, an animated Jason Capel, standing in the hallway of the Dean E. Smith Center following the matchup, can be heard proclaiming, "Check the record book! My boys did my work. I ain't got to say nothing. All I did for this program and y'all disrespect me? You got a broom? That's a sweep."
Jeff Capel said his brother was upset by a tweet posted by the North Carolina men's basketball account before the game but did not identify the specific tweet.
"My brother loves the school," Jeff Capel said. "He dreamed of coming here as a player when we were little, when he was little. He wore that [North Carolina] jersey with a lot of pride, and since he's left here, there has been a lot of disrespect towards him. And one thing happened today, and I don't think it's coming from within the basketball program, and I don't know who controls their social media … I get social media, you try to be funny or whatever, but I thought it was them trolling him.
"It's a complicated relationship with him and North Carolina. He loves [them]but I think at times, he doesn't feel that back."
Hours before Wednesday's game, the official Twitter account for North Carolina basketball tweeted a photo of a game-day program that showed Creighton Lebo — a walk-on and the son of North Carolina assistant Jeff Lebo — sticking out his tongue. Creighton Lebo, who has played two minutes total this season, wears No. 25, the same number Jason Capel wore for North Carolina.
Jeff Capel said the rocky relationship between Jason Capel and North Carolina goes back to 2009, when Jeff Capel was the head coach at Oklahoma and the Sooners faced the Tar Heels in the Elite Eight.
"My brother was there with my whole family supporting me — he had an [Oklahoma] shirt on — and the North Carolina fans were pretty s—ty towards him, excuse my language, but pretty, pretty nasty, and it [took one of the former North Carolina players to say something to them]," said Jeff Capel, who played hoops at Duke from 1993 to 1997. "You hear about the Carolina family and it's just amazing to me that their social media people would do that. I don't think it's [UNC coach Hubert Davis]. Hubert is awesome. He really is. I don't think it's the players on the team."