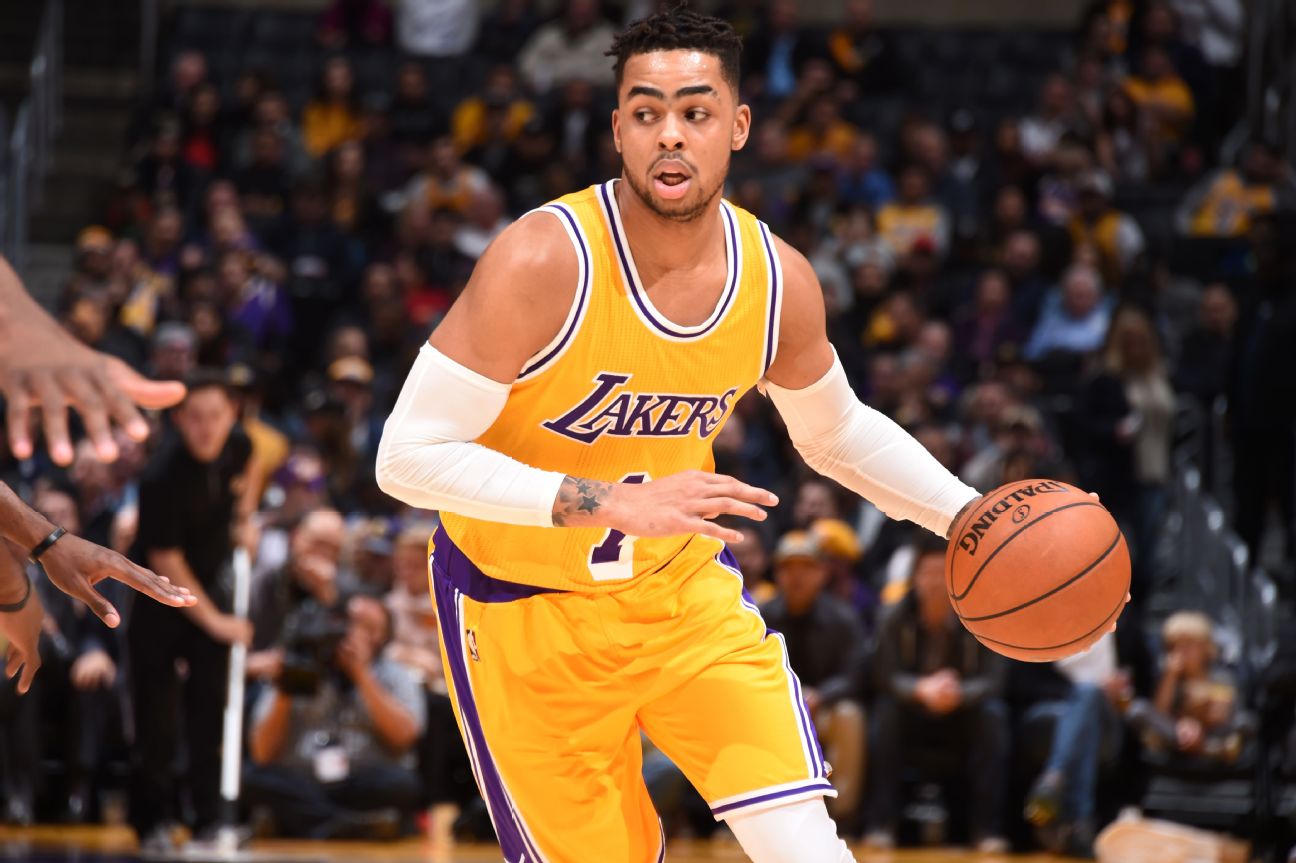 EL SEGUNDO, Calif. — Six years after he last played for the franchise, D'Angelo Russell took stock of his journey through three different teams before landing back with the Los Angeles Lakers via a trade this week.
"I mean, a lot has happened since I've been here, right?" Russell said as part of an introductory news conference Friday before the team flew to San Francisco. "I was an All-Star, went to the playoffs. I've done a lot of things individually. So to come back with that resume, I feel like it helps the team."
The Lakers acquired Russell from the Minnesota Timberwolves on Thursday as part of a three-team deal that also netted Jarred Vanderbilt and Malik Beasley from the Utah Jazz. In exchange, the Lakers sent Russell Westbrook, Juan Toscano-Anderson, Damian Jones and a protected first-round draft pick to Utah and a future second-round pick to Minnesota.
The Lakers are hoping Russell can help them make a playoff push.
He was selected by the Lakers with the No. 2 pick in the 2015 draft out of Ohio State. Los Angeles went 43-121 in his two seasons there before he was traded, alongside Timofey Mozgov, to the Brooklyn Nets in a salary cap measure by the Lakers.
He was named an All-Star in his second season with the Nets as Brooklyn made the postseason, losing to the Philadelphia 76ers in the first round. He was traded from the Nets to the Golden State Warriors as part of the Kevin Durant deal.
Midway through his first season with the Warriors, Russell again was traded to the Timberwolves as part of the Andrew Wiggins deal. In his second season with the Wolves, Minnesota made the playoffs, losing to the Memphis Grizzlies in the first round.
Now back in LA for his second stint, the team's mandate is to get back into the playoffs this spring. The Lakers have lost six of their past nine games to fall to 25-31, and they are 2.5 games out of the final play-in spot with 26 games remaining.
"I never hoped to be back here because I didn't understand if I could be ready for it and be a part of what they were doing for the future, because you never know what the team's going to look like, so it's hard to find stability in that," said Russell, who averaged 17.9 points and 6.2 assists for the Wolves on 46.5% from the field and 39.1% from 3 this season.
"But I'm here now, and I really appreciate being back, because I feel like I'm ready for everything that's about to come for the team and whatever comes my way."
Russell's rookie season coincided with Kobe Bryant's 20th and final season with the Lakers.
"When I reflect on my time in the past, it's all Kobe. All Kobe," Russell said. "Appreciating Kobe when I was here wasn't really something I did because I was young and I was figuring it out. But as soon as I left, I appreciated him more. Now that he's gone, I appreciate him even more. So when I reflect on that Lakers tenure when I was here, it's all a reflection of him."
Now he'll team with LeBron James, who happens to be in his 20th season, with some more seasoning as a professional and as a man.
"I can only imagine being out on the floor and how easy the game could be with a player like that, that much gravity around him," Russell said of playing with James. "[Anthony Davis] as well."
Davis told reporters that he wants the Lakers' new faces to step in and be ready to assert themselves right away, which doesn't sound like it will be a problem for Russell.
"I always feel like I'm an alpha, too," Russell said. "So whatever room I'm in, whoever I'm around, I'm going to feel like that, I'm going to walk like that. And when I get out on the floor, we're going to figure that out as well. … I'm going to try to fit into what they got going on, and then try to figure it out from that.
"I trust my craft, too. So I know whatever position I'm in, I'm going to thrive."
Russell said his familiarity with Beasley and Vanderbilt should help in the transition. Davon Reed, who was acquired with three second-round picks from the Denver Nuggets in a deal for Thomas Bryant, is expected to suit up with them Saturday at Golden State. Center Mo Bamba, acquired from the Orlando Magic in a trade for Patrick Beverley, will be on the trip as well but has two more games left on his suspension stemming from an on-court altercation with Austin Rivers.
While all of the new players will need to adjust to whatever roles are assigned to them by Lakers coach Darvin Ham, Russell is ready to show how he's adjusted since leaving LA
"I'm a grown man, now, I'm not a child," he said. "I'm just excited to showcase it."