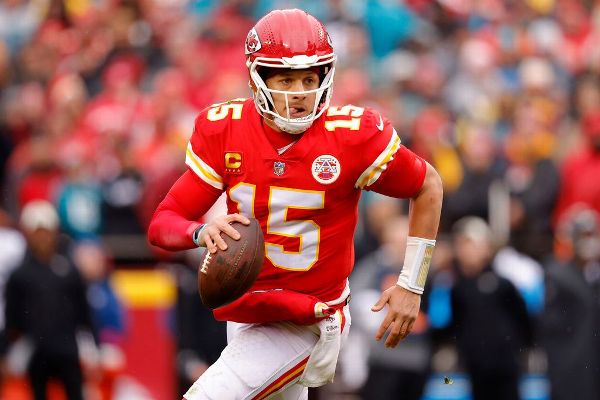 KANSAS CITY, Mo. — Andy Reid on Friday said Patrick Mahomes will start at quarterback for the Kansas City Chiefs in Sunday's AFC Championship Game against the Cincinnati Bengals at Arrowhead Stadium, confirming what seemed to be a foregone conclusion as the week moved along.
"He's moving around [well]Reid said. "He can go out and play."
Mahomes suffered a high ankle sprain to his right leg in last week's divisional round playoff win over the Jacksonville Jaguars. He sat out a series but returned and finished the game. He practiced all three days this week.
Mahomes' mobility after the injury was limited and his style of play was altered. He led the league in throws from outside the pocket during the regular season but made none against the Jaguars after the injury.
Reid said the Chiefs' game plan is expansive enough that they can call plays to avoid any limitations Mahomes might have.
"We have enough in the game plan where you can kind of pick and choose where you want to go with it," he said. "You have a variety of things that you can go to. Obviously you don't use all the plays in the game plan, but they're available and so if you have to go a certain direction, you can go that direction with the calls."
Mahomes said earlier he wasn't ready to concede he won't be able to scramble Sunday to make the signature plays he's known for.
"I feel like I can still do a lot of things but we'll see as we get closer and closer," Mahomes said. "We'll see during the game. You can't fully do [in practice] exactly what it's going to be like in those moments in the game. All I can do is prepare myself the best way possible and then when we get in the game you hope adrenaline takes over and you can make those throws when you need to."