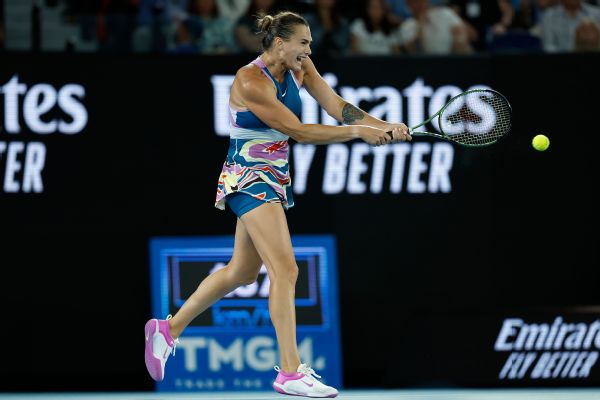 Aryna Sabalenka's undefeated run in 2023 has carried her to the Australian Open title with a 4-6, 6-3, 6-4 victory over Elena Rybakina on Saturday.
The turning point of the third set at Rod Laver Arena was a back-and-forth seventh game where Sabalenka broke to take a 4-3 lead. She double-faulted on her first match point and needed four in all before claiming the championship in her first Grand Slam singles final.
When Rybakina sent a forehand long to cap the final after nearly 2½ hours, Sabalenka dropped to her back on the court and stayed down for a bit, covering her face as her eyes welled with tears.
Sabalenka broke Rybakina in the fourth game of the second set as she seemed to gain composure and relax after a shaky first set.
She turned things around with an aggressive style that resulted in 51 winners, 20 more than her opponent. She used 17 aces to overcome seven double faults. And she managed to break the big-serving Rybakina three times.
Rybakina won the first set after breaking in the third game to put her ahead. The first three games were a serving clinic, with both players combining for seven aces.
Sabalenka broke in the eighth to even it at 4-4, but just as quickly Rybakina broke back and moved ahead 5-4. Sabalenka double-faulted to lose that game, and then Rybakina took the final game to love.
It was the first set Sabalenka had lost this year after starting 20-0 while winning her first 10 matches.
Sabalenka is a powerful player whose most glowing strength was also her most glaring shortfall: her serve. Long capable of hammering aces, she also had a well-known problem with double-faulting, leading the tour in that category last year with nearly 400, including more than 20 apiece in some matches.
After much prodding from her team, she finally agreed to undergo an overhaul of her serving mechanics in August. That, along with a commitment to trying to stay calm in the most high-pressure moments, is paying off now.
Sabalenka was 0-3 in Grand Slam semifinals until eliminating Magda Linette in Melbourne. Now Sabalenka has done one better and will rise to No. 2 in the rankings.
Rybakina was playing in her second final in the past three Grand Slam tournaments. The Wimbledon champion beat No. 1 Iga Swiatek in the fourth round at Melbourne Park.
The Associated Press contributed to this report.