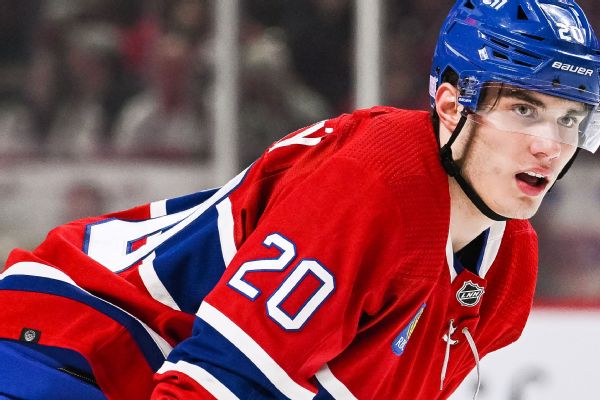 Montreal Canadiens rookie winger Juraj Slafkovsky, who went No. 1 in last summer's NHL draft, will be out for three months, the team announced Wednesday.
The Canadiens said the imposing Slovakian winger suffered a lower-body injury that will not require surgery. He went down Sunday against the Rangers.
Slafkovsky had four goals and 10 points in 39 games before he was moved to injured reserve.
Montreal general manager Kent Hughes talked about Slafkovsky's growth in media availability Wednesday.
"We believe his development will happen in stages," he said. "It's not, 'hey, we've got 10 things [for you to do]; go figure them out.' Because I think when you do that, [the player] is on the ice thinking and not reacting. And I think sometimes this year we've seen him think on the ice and other times we've seen him react.
"But we're not worried about the production side of it. We're really worried about seeing the areas that we want him to improve on. Do we see progress in those areas? Because we know, or we certainly believe, that long term, if he makes [certain] changes to his game, it's going to allow him to adapt to the North American style and be the most successful player he can be. He's going to be a different style hockey player than another guy."
Slafkovsky is the second Canadiens rookie to suffer a long-term injury this season. Defenseman Kaiden Guhle suffered a lower-body injury in late December that, at the time of his diagnosis, was slated to keep him sidelined for eight weeks.
Montreal also announced that goaltender Jake Allen, forward Joel Armia and forward Jake Evans are also injured. Allen has an upper-body injury that will keep him out for a week. Armia has an upper-body injury that will keep him out until the All-Star break, and Evans has a lower-body injury that will keep him out for eight to 10 weeks.
The Canadiens now have five players — Brendan Gallagher, Armia, Evans, Guhle and Slafkovsky — on IR.