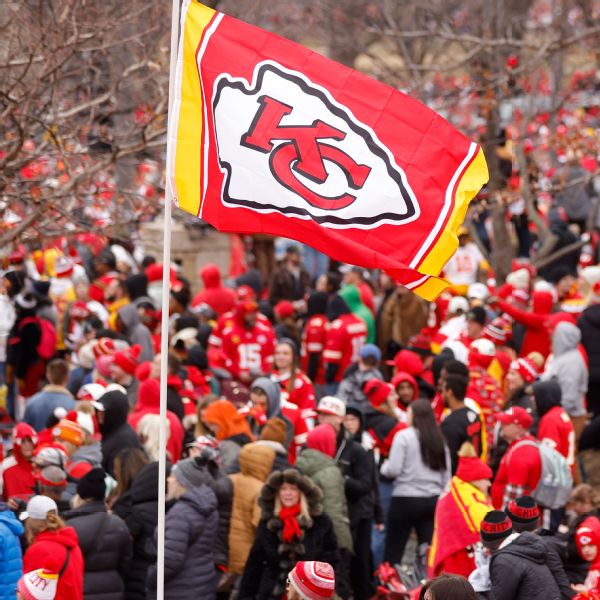 KANSAS CITY, Mo. — Patrick Mahomes walked on to the stage in front of Kansas City's Union Station, his Super Bowl LVII MVP trophy in one hand, a can of Coors Light in the other.
The Kansas City Chiefs quarterback then grabbed a microphone and made a promise to a crowd of fans.
"I just want to let you all know that this is just the beginning," Mahomes said. "We ain't done yet, so I'll make sure to hit y'all back next year and I hope the crowd's the same.
"We're back again. We're back again. Before we started this season, the AFC West said we were rebuilding. I'll be honest with you. I don't know what rebuilding means. In our rebuilding year, we 're world champs."
Mahomes and the Chiefs celebrated their 38-35 Super Bowl win over the Philadelphia Eagles and their second title in four seasons on an overcast, 40-degree day with a parade in front of a crowd of fans that officials estimated would reach more than 500,000.
Players exited their open-roofed buses at various points to high-five and sign autographs for fans lining the parade route. On the many times when Mahomes did so, he was followed closely by security guards and police officers.
Many of the offensive linemen wore shirts that read, "0 sacks," with an oversized 0. The Chiefs held the Eagles, who led the league with 70 sacks during the regular season and added eight more in their first two playoff games, without one .
Fans were generally happy and in good spirits while waiting in long lines for food trucks, merchandise trucks and, of course, portable toilets. Some people stayed overnight to get prime spots across from Union Station.
But Shellie Diehl, 46, of Kansas City, was seated along a street about a block from Union Station as the crowd became more congested in front of the rally site. She was joined by her 8-year-old daughter, Skyler; 16-year-old daughter, Taylor; and a friend.
Diehl said she attended the Chiefs parade in 2020 and decided to have mother-daughter time while celebrating Skyler's first parade.
"The last one was so much fun, we decided we had to come to this one," Diehl said. "We're big Chiefs fans, and we wanted to celebrate a great day with the community."
Mahomes wasn't the only member of the Chiefs to take preseason slights, real or perceived, to heart. Tight end Travis Kelce was another, saying, "The haters were saying that the Chiefs would never make the playoffs. The haters were saying the Chiefs were done. Done.
"In all reality, this was the best season of my life. I owe it to you guys. I owe it to the guys on this stage. I owe it to everybody … Everybody's asking: Is this a dynasty? It's been a dynasty."
The Chiefs have reached the AFC Championship Game in each of the past five seasons. They won and advanced to the Super Bowl three times and lost in overtime in the AFC title game on the other two occasions.
Each of the Chiefs' three AFC West rivals loaded up through free agency, trades and the draft in an effort to try to break Kansas City's six-year run of division championships. The Chiefs, meanwhile, traded star wide receiver Tyreek Hill, did not re-sign safety Tyrann Mathieu and had six rookies playing a significant role on defense.
The Chiefs still finished the regular season 14-3 and won a seventh straight AFC West title by four games.
General manager Brett Veach said it wasn't a rebuilding season in traditional terms but added as he acknowledged the scene in front of him, "In Kansas City, this is what a rebuilding year looks like right here."
Defensive tackle Chris Jones was among those already looking to next season. He led fans in a chant of "Run it back."
The Associated Press contributed to this report.