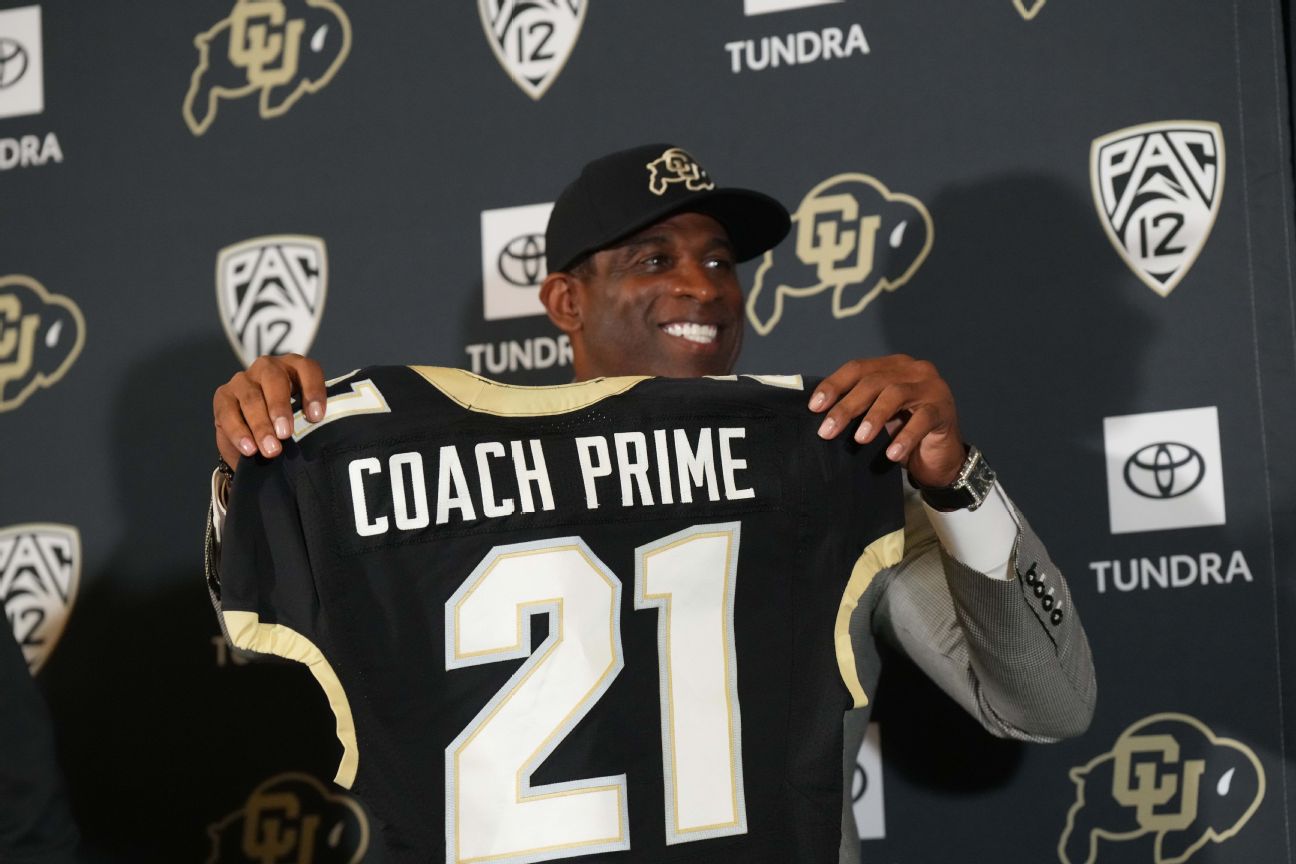 BOULDER, Colo. — Deion Sanders strived for greatness throughout a Hall of Fame playing career, and he has set similar goals as coach of the Colorado Buffaloes, despite the team's 1-11 season in 2022.
Sanders told ESPN on Friday that he doesn't cater his message to the team he inherited. Instead, he requires players to adjust to his expectations and demands.
"It's a whole different level of expectation around here, and you got to be able to play the game," Sanders told ESPN. "So a certain level that might have been welcome, that level is no longer welcomed here. It's a whole different game now."
Sanders, who went 27-6 at Jackson State, was hired in December to oversee a Colorado team that was coming off its worst season since 2012 and had only two winning seasons since 2005.
He has dramatically transformed the roster with transfers — including his son Shedeur Sanders and Travis Hunter from Jackson State — as well as recruits, such as Cormani McClain, ESPN's top-rated cornerback and No. 14 overall players in the 2023 class.
The 55-year-old Sanders has been very visible around town during his first two-plus months on the job, visiting local restaurants and making appearances around campus, which is nestled beneath the Flatiron rock formations.
"This place is beautiful," Sanders said. "And I'm pretty sure, with the lack of success, is people get complacent around here. They don't understand the beauty and the diamond you have, and they just walk around fulfilling obligations for a job, instead of being happy, enthusiastic and just proud to be in this position."
At his first team meeting, Sanders said change would be coming to the Buffaloes. He said he'd bring his "luggage" — several key transfers from Jackson State — and that players who didn't want to adjust should "jump in the [transfer] portal."
"It's not a hard message, because here's the thing: A lot of people are used to being lied to," Shedeur Sanders, who is projected as Colorado's starting quarterback, told ESPN. "The players coming in, they're coming to play — they're not coming to sit. So if you've been here, you're chilling, you're thinking your spot's good, that's not the case. You' ve got guys wanting to play with top talent, each and every position.
"Nowadays, a lot of people are scared of the truth, and they don't like hearing that."
Deion Sanders said he defines first-year success in several ways — on the field as well as with his players' academics, conduct and maturity level. Colorado opens the season at national runner-up TCU before hosting Nebraska and also facing USC and Oregon in September.
But Sanders, who won two Super Bowls in the NFL, didn't take the job for a slow rebuild.
"We will not settle for mediocrity," Sanders said. "It is what it is. You're going to get on this program, or you're going to get up out of here. We plan on winning and we don't have time to procrastinate."