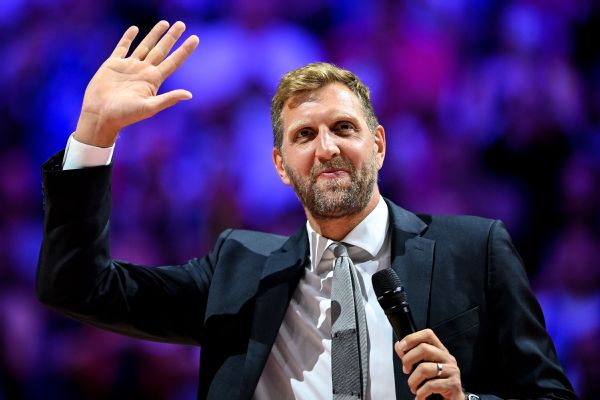 SALT LAKE CITY — Dwyane Wade, Dirk Nowitzki, Pau Gasol and Gregg Popovich headline the list of finalists for the 2023 class of the Naismith Memorial Basketball Hall of Fame, it was announced Friday as part of NBA All-Star weekend.
"I love the class," Jerry Colangelo, chairman of the Hall of Fame, said in a news conference. "I think this is a loaded class. … I think this is unique in that we have a lot of first-time people and it's unusual when somebody makes it on the first ballot. But this is going to be that unique of class . Because there could be four or five first-timers. So, I'm very excited about it."
Wade won three championships with the Miami Heat and was NBA Finals MVP in 2006, a 13-time All-Star and an Olympic gold medalist for USA Basketball in 2008.
Nowitzki is No. 6 on the NBA's all-time scoring list with 31,550 points, was named league MVP in 2007 and won a championship with the Dallas Mavericks in 2011, when he was named Finals MVP.
Gasol won two championships with the Los Angeles Lakers alongside Kobe Bryant and was a six-time All-Star and two-time Olympic silver medalist for Spain.
Popovich is the NBA's all-time leader in coaching wins and guided the San Antonio Spurs to five championships.
Other player finalists include former Spurs point guard and 2007 Finals MVP Tony Parker; Becky Hammon, a six-time All-Star in her WNBA career; and Jennifer Azzi, a collegiate national champion at Stanford, an Olympic gold medalist for USA Basketball in 1996 and a five-year WNBA veteran.
Other coaching finalists include Purdue men's basketball all-time wins leader Gene Keady; Marian Washington, who amassed 560 wins in 31 years coaching the University of Kansas women's team; Gary Blair, who led Texas A&M to the women's championship in 2011; Gene Bess, who won 1,300 games and two national championships with Three Rivers Community College; and David Hixon, who won 826 games in 42 years at Amherst College.
The inductees for the August ceremony in Springfield, Massachusetts, will be announced as part of the NCAA Final Four festivities in Houston in April.
Induction is determined through voting conducted by an honors committee comprised of 24 members. A finalist must receive a minimum of 18 votes from the committee to earn entrance to the Hall.
"A young Dwyane Wade never thought this moment would be here," said Wade, who owns a stake in the NBA All-Star's host team, the Utah Jazz, after the finalists were announced. "Sometimes when you're young and you have a dream, a lot of people don't believe in your dream because it seems so far-fetched. But I've always been a dreamer."
Gasol was also present for the news conference and sat in the front row next to Wade while NBA TV's Matt Winer hosted the event.
"As Kobe said at one point, 'It's really about the journey,'" Gasol said. "These types of recognitions, which are an amazing honor, they come along when you do things very, very well for a long time. And when you love what you do."