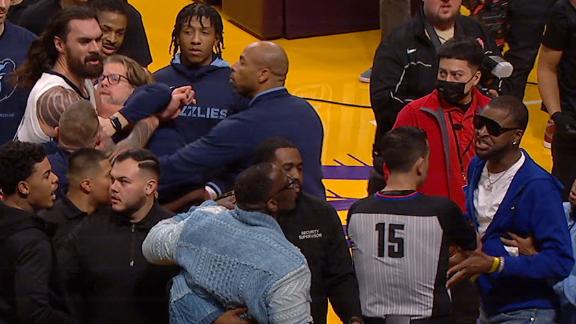 LOS ANGELES — Tempers flared just after the second-quarter buzzer sounded in Friday night's game between the Memphis Grizzlies and Los Angeles Lakers when several members of the Grizzlies engaged in a shouting match with Pro Football Hall of Famer Shannon Sharpe, who was seated nearby the court.
Referees and security intervened to settle the confrontation as several Grizzlies players — including Dillon Brooks, Steven Adams, Ja Morant and Morant's father, Tee Morant — gathered on the sideline opposite their bench at Crypto.com Arena to approach Sharpe.
Sharpe, who works as a commentator for Fox Sports, was escorted by security through the tunnel to a back hallway of the arena, where he stayed for halftime before returning to his seat for the third quarter.
Part of Sharpe's persona on his show, "Undisputed," is celebrating his unabashed fandom of Los Angeles Lakers star LeBron James opposite his co-host, Skip Bayless, a notorious James critic. Sharpe has appeared on the show wearing a goat mask and James' jersey, suggesting that James is the greatest player of all time, or GOAT, of the NBA.
Sharpe granted ESPN a brief interview on his walk back to his seat before the second half started.
"They didn't want this smoke, Dave," Sharpe said. "They do all that talking and jockeying and I ain't about that jockeying. It started with Dillon Brooks. I said he was too small to guard LeBron. He said, 'F— me'. I said, 'F- — you' back. He started to come at me, and I said, 'You don't want these problems.' And then Ja came out of nowhere talking. He definitely didn't want these problems. Then the dad came and he obviously didn't want no problems.
"But I wanted anything they had. Don't let these fools fool you now."
Cameras later showed Sharpe and Tee Morant shaking hands and hugging at the end of the third quarter. The two embraced again after the final buzzer.
"Shannon didn't do anything," Tee Morant told ESPN. "Hey, he was doing like we do in South Carolina. We talk our s—. … South Carolina, stand up!"
James, who scored 23 points to draw within 260 points of Kareem Abdul-Jabbar's all-time scoring mark, said he appreciated Sharpe's presence.
"I mean, I ride with Shannon for 365 days, 366 on a leap year, 24/7," James said after the game. "So, that's my guy. So I'll always have his back, and he's got mine. He can talk with the best of them, for sure."
Some of the Grizzlies players were in a less jovial mood about the run-in, however.
"I ain't talking about that," said Brooks, who claimed he merely told Sharpe that James missed a shot when he was guarding him. "You can ask him. He's the blogger or whatever he is. I don't really care about all that. Next question."
When pressed if Sharpe's behavior was appropriate for someone attending the game as a fan, Brooks didn't hold back.
"A regular pedestrian like him? No," Brook said. "He should have never come back in the game. But this is LA"
When Ja Morant was asked about Sharpe, he paused for about six seconds before speaking, then said, "let me think," and was silent for a few more seconds before answering.
"Nah," he said, thinking better of elaborating. "I'm not going to address that. I'm going to let him live today."
Memphis coach Taylor Jenkins also sidestepped a question about what happened with Sharpe and his team, saying simply, "I thought the Lakers played extremely well tonight."
The Grizzlies lost 122-121 to snap an 11-game winning streak. Lakers guard Dennis Schroder scored the game-winning bucket with 7.6 seconds left after stealing the ball from Desmond Bane near center court and streaking in for an and-1 layup.
"If we would have followed our principles, we would have won the game by 15," Brooks said.
Jenkins dismissed the significance of seeing the win streak snapped just shy of setting a new franchise record.
"The disappointment is we didn't play to our standard. I don't care about a streak," he said. "No one should care about a streak. It's about performing, being 100 [percent] out there, having the right mentality. … Coming out there and getting outcompeted in every single area is unacceptable."