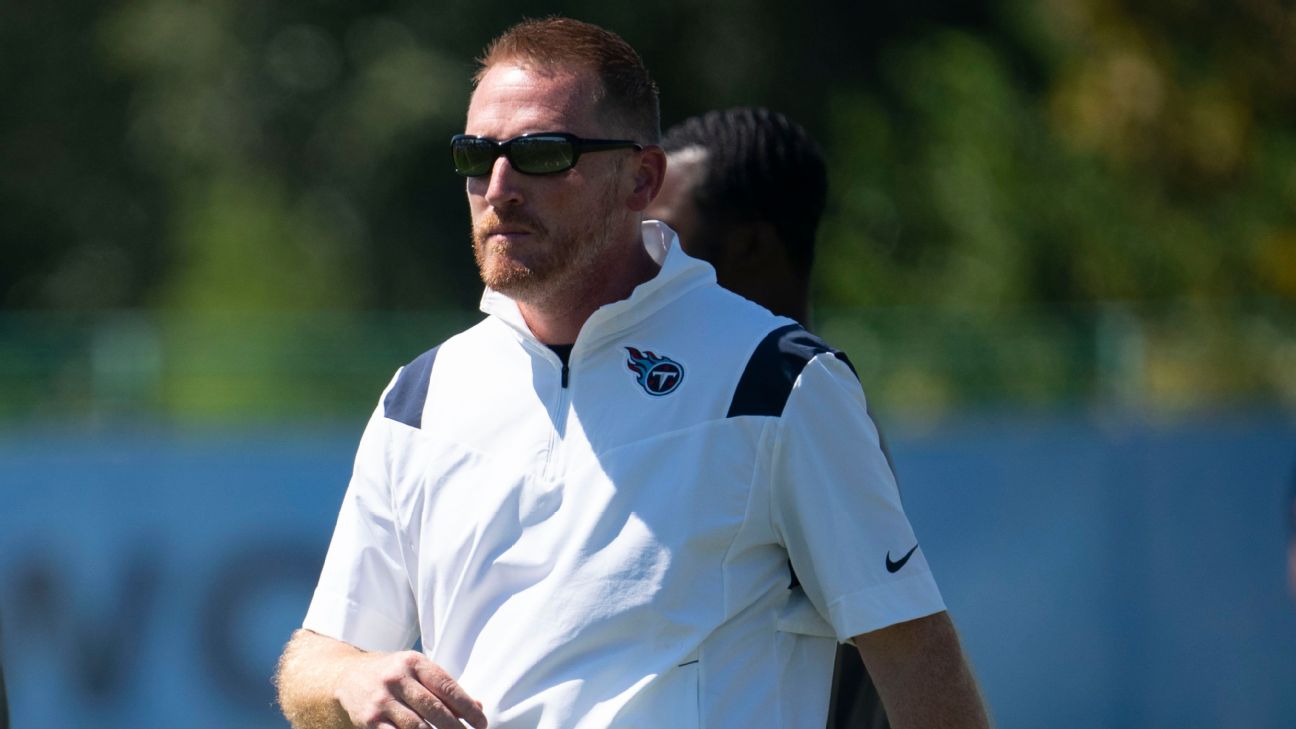 FLORHAM PARK, NJ — Continuing to reshape their offensive coaching staff, the New York Jets have hired former Tennessee Titans offensive coordinator Todd Downing as their passing-game coordinator, a source confirmed Monday.
Downing, who was fired after the season, has ties to two quarterbacks who might be potential offseason targets for the Jets — the Titans' Ryan Tannehill and the Las Vegas Raiders' Derek Carr.
Downing was the Raiders' quarterbacks coach in 2015 and 2016 and their coordinator in 2017 — three Pro Bowl years for Carr, who is expected to become a free agent this week.
The Jets also checked into the availability of the Green Bay Packers' Aaron Rodgers, sources told ESPN's Jeremy Fowler on Sunday.
NFL Network first reported Downing's hiring.
This was the latest move by coach Robert Saleh in a reboot on offense. The big move was replacing offensive coordinator Mike LaFleur with Nathaniel Hackett, who was Rodgers' coordinator from 2019 to 2021. Saleh also replaced offensive line coach John Benton with Keith Carter, who was also fired by the Titans.
Saleh said he wanted to add another experienced coach to the staff, replacing the role the late Greg Knapp was supposed to have. Knapp was killed by an automobile while riding a bike in July 2021. The search led Saleh to Downing, who worked with Hackett on the Buffalo Bills' staff in 2014.
Downing, 42, was arrested last Nov. 18 and charged with DUI and speeding in the hours after the Titans' Thursday night game against the Packers. He wound up serving a 48-hour jail sentence that began Jan. 31.
The Titans didn't punish Downing at the time, but he was fired at the conclusion of their 7-10 season. In Downing's second year as the coordinator, the Titans suffered a significant drop on offense, going from 419 points (15th) to 298 (28th). An injury to Tannehill, who missed five games, contributed. They did have a big year out of Derrick Henry, who rushed for 1,538 yards.
Saleh is still looking for a wide receivers coach to complete his staff.