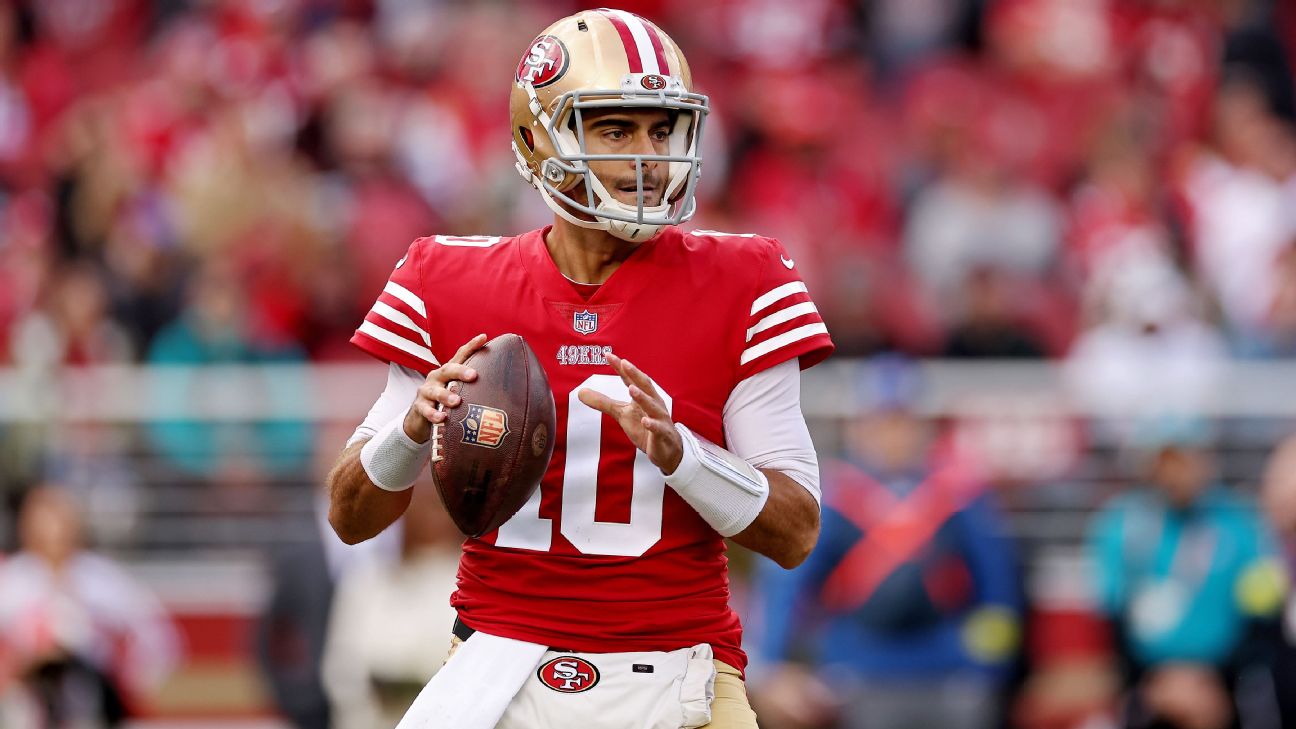 SANTA CLARA, Calif. — For more than five years — through injuries, trade attempts and much more — the San Francisco 49ers and quarterback Jimmy Garoppolo have always found their way back to each other.
But as San Francisco heads into yet another offseason filled with quarterback uncertainty, coach Kyle Shanahan made it clear Wednesday that Garoppolo and the Niners are finally going to go their separate ways.
Asked whether there was any scenario in which he could see Garoppolo returning to San Francisco in 2023, Shanahan did not mince words.
"No, I don't see any scenario of that," Shanahan said.
Unlike last year, when Garoppolo was still under contract and the Niners attempted to trade him, they have no such agency this time around. Garoppolo is scheduled to become an unrestricted free agent in March, and the 49ers cannot use a tag to retain his rights.
Shanahan and the Niners will therefore move forward with Brock Purdy and Trey Lance as their two quarterbacks under contract, something Shanahan said Wednesday that he would be content with going into next season.
The first order of business for Purdy is getting the torn ulnar collateral ligament in his right elbow taken care of. Purdy had further imaging done on the elbow Tuesday afternoon and although no decision has been made yet on whether he will have a reconstruction (Tommy John surgery) or repair (InternalBrace procedure), general manager John Lynch indicated that things were trending in the direction of the latter.
A repair would be good news because it would mean a shorter recovery for Purdy that could have him back on the field near the start of training camp at the end of July or early August.
"The positive bit of news is that it seems to be consistent that the right approach is that one that takes about that six-month point," Lynch said. "Now everybody will also say you never know until you get in there. Every surgeon will tell you that on every surgery. You always like getting in to see exactly … . They're continuing to work through that process, but we seem encouraged by the prognosis that that's kind of where it's at."
If Purdy opts for the surgical repair augmented with an InternalBrace to help reinforce the ligament as it heals, he could actually begin his rehab as soon as three months after the procedure with full clearance at the six-month mark.
"That was the coolest thing for me to hear about that," Shanahan said. "Once three months is over, they start the rehab, just building the arm back slowly, and by six months it's filled back."
Lance said Tuesday that he should be out of the walking boot for his surgically repaired right ankle by the end of this week, with the chance to be cleared in time for organized team activities in May.
Shanahan indicated Wednesday that that timeline is possible, although Lance might not do as much in the parts of the offseason program before OTAs start.
"It sounds like it'll be pretty close around Phase 1, Phase 2," Shanahan said. "Hopefully we'll go to ease him into drill work and things like that and by OTAs he will be able to go."
As for how the quarterback situation will shake out, Shanahan said Wednesday that he hasn't given it much thought yet, noting that there's not much to discuss right now because only Lance figures to be available for any on-field work before training camp.
Shanahan did acknowledge that the Niners will need to add another quarterback in some way, but he didn't sound as if he and the 49ers will go hunting for a big name at the position.
"I know we have two starters on our team right now that I believe we can win with," Shanahan said. "So when you have that situation, you're not that eager to go looking around."
Among the other takeaways from Shanahan and Lynch at Wednesday's end-of-season news conference:
Despite persistent rumors that he could be leaving for television or another job, Lynch said he intends to remain in his role in San Francisco. "I plan on being here," Lynch said. "I really do. I'm committed to doing this and I'm having a great time doing it and committed to finding a way to get a little bit better."

When left tackle Trent Williams, 34, spoke Tuesday, he didn't definitively close the door on retiring this offseason. But Shanahan believes that was more the result of Williams being tired at the end of a long season than a realistic chance he could actually call it quits. "I didn't read his words as that's a big thing for him," Shanahan said. "I know Trent loves football. I know it's very hard at his age, but in any situation, to do what you do for that long and come up short. But I'd be surprised if Trent retired in a few weeks."

On a looming contract extension for defensive end Nick Bosa, Lynch indicated it will play out similar to the way things did with players such as linebacker Fred Warner, receiver Deebo Samuel and tight end George Kittle, meaning a deal might not get done until closer to the start of training camp. "I think we have a real good track record," Lynch said. "You looked the last five years … of getting our players done. But it takes time, it takes patience, it takes persistence, and we'll have that on our side."