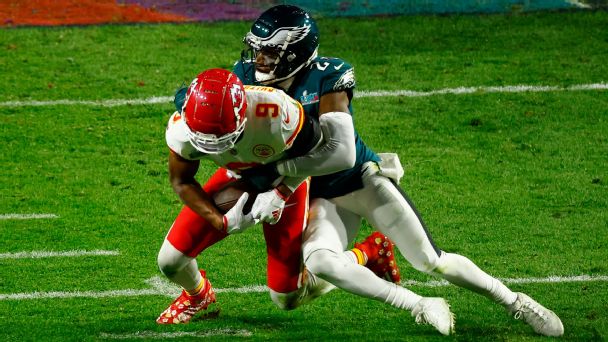 Love wasn't in the air Tuesday when Kansas City Chiefs wide receiver JuJu Smith-Schuster posted a Valentine's Day card directed at Philadelphia Eagles cornerback James Bradberry on Twitter.
The card featured a picture of a smiling Bradberry with the words, "I'll hold you when it matters most."
Happy Valentine's Day, everyone ❤️ pic.twitter.com/skXuZVgrYR

— JuJu Smith-Schuster (@TeamJuJu) February 14, 2023
The Valentine's Day greeting comes two days after Bradberry's costly holding penalty on Smith-Schuster late in the fourth quarter of Super Bowl LVII. The game-changing play helped the Chiefs record a 38-35 victory over the Eagles.
For his part, Bradberry owned up to his penalty after the game.
"It was holding," he said. "I tugged his jersey. I was hoping they would let it slide."
On Tuesday, Bradberry opted to take a subtle dig at Smith-Schuster by reminding Twitter users that he — and not Smith-Schuster — qualified for the All-Pro team.
ALL-PRO #APJB

— James Bradberry IV (@Brad_B21) February 14, 2023
While Bradberry's response was subtle, Eagles wide receiver AJ Brown was more direct.
First off congratulations. Y'all deserve it. This is lame. You were on the way out of the league before Mahomes resurrected your career on your 1 year deal Tik-Tok boy. He admitted that he grabbed you but didn't act like you like that or ever was. But congratulations again! 🎊👏🏾🍻 https://t.co/Z3SpMXnP4K

— AJ Brown (@1kalwaysopen_) February 14, 2023
Smith-Schuster didn't take long to respond to Brown's comment, and added a retort to Eagles safety CJ Gardner-Johnson, who also called him out.
Glad you were finally able to get all that off your chest after all these years. Good game bro 👍🏾💍 https://t.co/2JNdB6uYqU

— JuJu Smith-Schuster (@TeamJuJu) February 14, 2023
Big 🧢, also I told you in the game to stop all that talking because we were gonna come back and win that game. Now help me decide which finger I need to get sized for this ring 🤣🤣 https://t.co/Xv97nrRBQW

— JuJu Smith-Schuster (@TeamJuJu) February 15, 2023