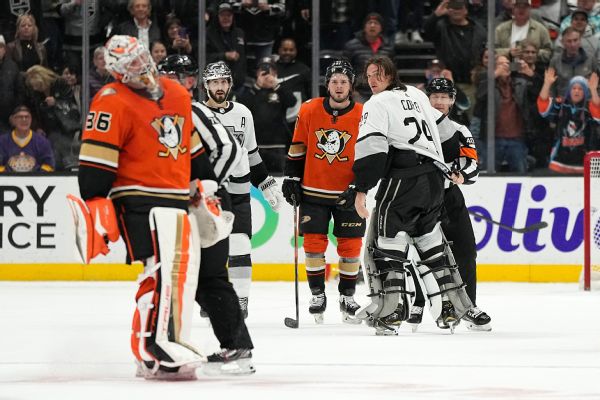 Los Angeles Kings starting goalie Pheonix Copley was given a match penalty against the host Anaheim Ducks on Friday night for throwing a punch while still wearing his blocking glove.
At 19:36 of the second period, Ducks forward Max Jones was entangled with three Kings defensemen to Copley's left. Anaheim forward Frank Vatrano skated across the crease and threw a left jab at Copley's mask.
Copley and Kings defenseman Mikey Anderson jumped on Vatrano. Copley delivered a series of punches to Vatrano on the ice while wearing a blocker on his right arm, before eventually shaking it off.
Copley was in violation of NHL Rule 51, which states that a referee can issue a match penalty if "a goalkeeper uses his blocking glove to punch an opponent in an attempt to or to deliberately injure an opponent."
Ducks goalie John Gibson skated to center ice during the altercation and banged his stick, seeking to fight Copley. But the on-ice officials skated Copley away to serve his match penalty, which Gibson met with a shrug.
"They were going at [Copley] a couple of times earlier in the game, so he had probably just had enough," said Kings defenseman Drew Doughty, who had two assists. "I would have loved for the linesmen to just let 'em go, but Cop has been playing great for us, and we don't need him getting injured."
Copley and Gibson were given minor penalties for leaving their creases. Vatrano and Jones drew roughing minors, as did the Kings' Anderson and Doughty.
Kings goalie Jonathan Quick entered the game, which Los Angeles won 6-3.
Copley, who stopped 16 of 17 shots for the Kings on Friday, has been a revelation for Los Angeles this season, with a 17-3-1 record and a 2.70 goals-against average.
"He was given an opportunity, and he did well on it," Los Angeles coach Todd McLellan said of Copley. "You can't write a better script than that."