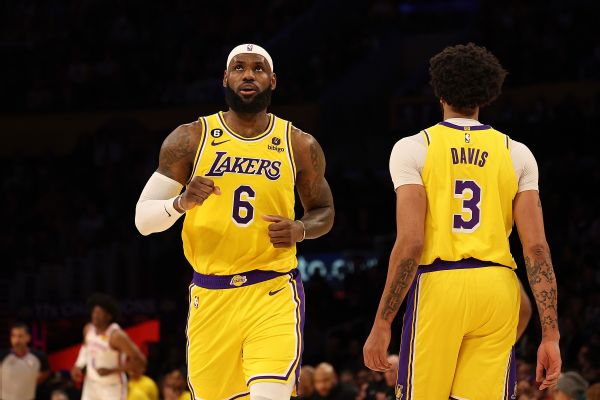 LOS ANGELES — LeBron James might insist he's not a scorer, but the Los Angeles Lakers star punched a major hole in his own argument with a historic night amid the 20th season of his decorated NBA career.
With a fadeaway jumper with 10.9 seconds to play in the third quarter, James surpassed Kareem Abdul-Jabbar's 38,387 career points to move into the No. 1 spot on the league's all-time scoring list Tuesday night against the Oklahoma City Thunder.
James entered the game with 38,352 points, needing 36 on the night to overtake Abdul-Jabbar.
The Lakers credentialed more than 200 media members for the occasion, an amount typically seen for a late-round playoff game. James' family and friends from Akron, Ohio, were in attendance — including his mother, Gloria, and high school teammates.
Also present at Crypto.com Arena was Abdul-Jabbar himself, who sat on the baseline near the Lakers bench.
"When I say I'm not a scorer, I say it in a sense of, it's never been the part of my game that defines me," James told ESPN last month with the record approaching. "The scoring record was never, ever even thought of in my head because I've always been a pass-first guy."
The four-time champion and four-time MVP has bolstered his claim by also ranking No. 4 in all-time assists, No. 9 in steals, No. 32 in rebounds and No. 91 in blocks — all a testament to James' dominance and longevity, having logged the third-most minutes in league history.
Abdul-Jabbar's record had stood since April 5, 1984. James, 38, was born about nine months later.
"I grew up being a historian of all sports," James said last week. "I don't have the number like planted in my head — the actual, real number. I know it's 38 (thousand and) something. But I know it's been Kareem. My whole life."
It's been a basketball life played out in the national spotlight since the time he was a teenager, playing televised games in high school, skipping college to become the No. 1 pick by the Cleveland Cavaliers in 2003, announcing his first major free agency decision on a made-for-TV special, and all the while leading his teams to 10 appearances in the NBA Finals.
This Lakers season has been up and down, starting off 2-10 and marred by a slew of setbacks that have caused coach Darvin Ham to shuffle through 27 different starting lineups — the most in the league — but James' sustained excellence has led to a parade of praise from his contemporaries around the league.
"I think he's going to have the greatest career of all time," Philadelphia 76ers coach Doc Rivers said. "I think he's already had it. I think Michael (Jordan) is the greatest of all time, but that doesn't take anything away from LeBron. LeBron's had the greatest career."
Darius Miles, a fellow preps-to-pros prospect who was a teammate when James was a rookie, took his sons to see the Lakers play in Orlando this season to show his respect for the 19-time All-Star's scoring march.
"Out of all the guys to come out of high school — me, KG (Kevin Garnett), Kobe (Bryant) — a lot of us were slender built, but he had muscles, man," Miles told ESPN. "I knew I probably couldn't make the game where he broke the record, but I really wanted to see him play this season. It was important for me. … This was a special one for me."
San Antonio Spurs coach Gregg Popovich, who has the most coaching wins in league history and battled James in the Finals three times, marveled at how James' offensive game improved over time.
"In the beginning, I know when we used to play him, we just tried to stay in front of him and give him a lot of room. And if he shot it, we were happy," Popovich said. "And then as years went by, we were much less happy while he started to learn how to knock that shot down. And now he's shooting 3s."
Abdul-Jabbar made only one 3-pointer in his career, averaging 24.6 points in his 20 seasons, setting the all-time mark in 1,560 games played. James has evolved along with the league, ranking No. 9 on the all-time 3s list and has averaged 27.2 points in his 20 seasons, catching Abdul-Jabbar in his 1410th game.
While Abdul-Jabbar had his signature skyhook shot, James told ESPN his go-to move would have to be his tomahawk dunk. The numbers show just how devastating he's been in attacking the rim, ranking first in fastbreak points, first in points off of turnovers and fourth in dunks since those statistics started being tracked in the play-by-play era, according to ESPN Stats & Information research.
Despite Abdul-Jabbar being publicly critical of James in recent years, the two buried any discord leading up to the record.
"Just the correlation of being high school phenoms, to doing the things that we did off the floor for the betterment of our people, to wearing the Lakers jersey and trying to carry on that legacy that Dr. Buss and so many great people have set out for … and then being a part of this conversation with the scoring record," James told ESPN when asked about Abdul-Jabbar. "That's the relationship, that's the conversation and we will kind of always be linked."
Lakers governor Jeanie Buss, who won a championship with James in 2020 and saw her father partner with Abdul-Jabbar for five rings, credited James' continued ambition as the fuel for his late-career success.
"He visualizes what he wants to accomplish and he's fearless in reaching his goals," Buss told ESPN. "He will put in the work. His method and his understanding of the game and putting himself in a position to be successful is really — it's just awe-inspiring to watch."
As the youngest player ever to score each thousand-point milestone from 1,000 to 38,000 in league history, James, who came into Tuesday's game averaging 30.0 points this season, is also the oldest player to ever average 30 points per game.
"I don't know what more people want him to do," Lakers point guard Dennis Schroder said after shootaround Tuesday morning. "He's one of the all-time greats. … He's the best of all time."