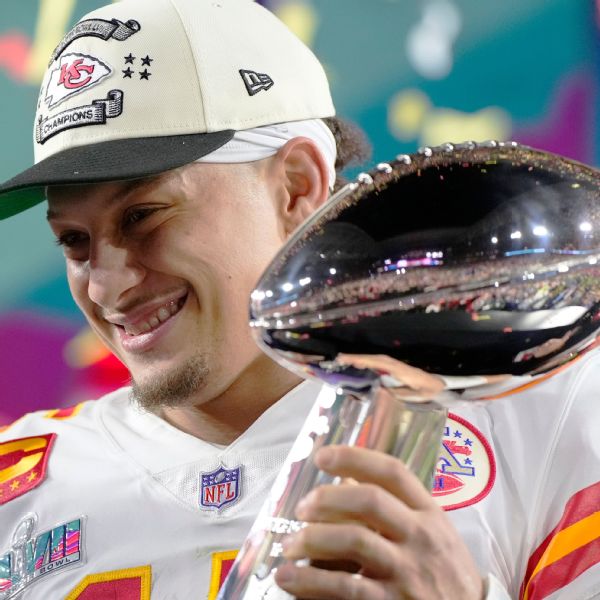 GLENDALE, Ariz. — Patrick Mahomes, named Super Bowl LVII MVP on Sunday night, is headed to Disneyland three years after heading to Disney World as MVP of Super Bowl LIV.
He called it his "world tour" after leading the Kansas City Chiefs to a 38-35 victory over the Philadelphia Eagles, and said he wouldn't take his theme park visit for granted after the previous two seasons. The Disney parade with Mahomes is at 4:30 pm ET on Monday.
The Chiefs were blown out 31-9 by the Tampa Bay Buccaneers in Super Bowl LV, then lost last season in the AFC Championship Game to the Cincinnati Bengals after leading by 18 points.
"The failures … they give you a greater, greater appreciation to be standing here as a champion," Mahomes said.
Mahomes is the 13th quarterback in NFL history to win multiple Super Bowl championships. Similar to their Super Bowl LIV win over the San Francisco 49ers, the Chiefs rallied from 10 points down in the fourth quarter for Sunday's victory, which wasn't secured until Harrison Butker kicked a 27-yard field goal with eight seconds left.
Mahomes was 21-of-27 for 182 yards and three touchdowns and also rushed for 44 yards. But statistics tell only part of the story.
The league MVP played on a high ankle sprain that he suffered in the divisional round playoff win over the Jacksonville Jaguars and aggravated the injury late in the first half vs. the Eagles.
He not only stayed in the game but scrambled for 14 yards on the Chiefs' touchdown drive to begin the second half and for 26 yards on the drive to the game-winning field goal.
"It felt great until I kind of rolled it a little bit," Mahomes said. "I thought I felt really good and then that happened, and I had a lot of soreness going through into halftime and was able to move it around, kind of able to tap up a little bit and go out there in that second half.
"It didn't feel good, but I was going to leave it all out there."
Mahomes' grit was appreciated by his teammates.
"I wasn't distraught or down," Chiefs offensive tackle Orlando Brown said of Mahomes' injury. "It didn't affect the energy or anything like that. We just kind of knew if he's got a little bit of a limp then he's got a little bit of a bigger chip on his shoulder.
"I don't know how bad it was, but you can never count [Mahomes] out. He's one of the greatest."
Mahomes also played with a high ankle sprain in the AFC Championship Game victory over the Bengals. Then, he scrambled for yards on the Chiefs' final offensive play that combined with a defensive penalty put the Chiefs into game-winning field goal position.
"He grew up in a locker room," Chiefs coach Andy Reid said of Mahomes, whose father was a longtime major league pitcher. "He's seen the greatest. He strives to be the greatest. Without saying anything, that's the way he works.
"He wants to be the greatest player ever. That's the way he goes about his business. And he does it humbly. There's no bragging. He can stand up here and give you these stats he's had, but he's never going to do that. This is not him.
"We appreciate that. And when it's time for the guys around him to raise their game, he helps them with that. The great quarterbacks, they make everyone around them better, including the head coach."
The Chiefs watched each of their AFC West rivals load up through trades, free agency and the draft in an effort to break their hold on the division. The Chiefs, meanwhile, traded star wide receiver Tyreek Hill and retooled on defense, where six rookies played a significant amount during the season.
These events combined to make for what Mahomes called a most satisfying championship.
"I wouldn't necessarily say we were counted out, but there were a lot more critics than there were the previous years I've been here," Mahomes said. "At the beginning of the year, I said as long as Andy Reid is coaching, we're going to have success as an offense, and I was trusting the leaders that we have in that defense.
"So to go from a team that I wouldn't even say a majority picked to win the AFC West to win the Super Bowl, that speaks to the guys that we have in that locker room."