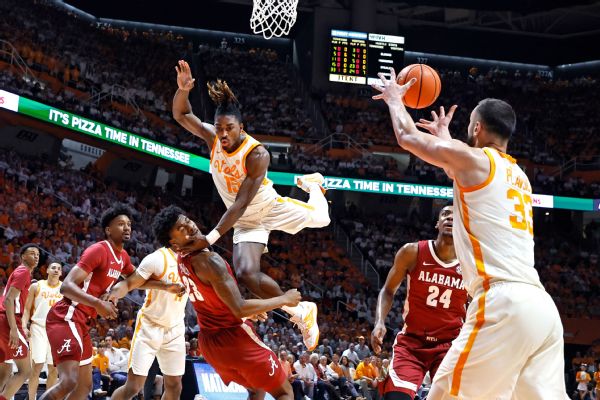 KNOXVILLE, Tenn. — Zakai Zeigler and Santiago Vescovi each scored 15 points, and No. 10 Tennessee took down newly minted No. 1 Alabama 68-59 on Wednesday night.
Playing its first game as the top-ranked team since the 2002-03 season, the Crimson Tide (22-4, 12-1 SEC) led just once in the early going and committed 19 turnovers.
Unlike in football, when Tennessee fans stormed their home field after beating No. 3 Alabama 52-49 in October, this sellout crowd stayed in the seats when it was over. "Rocky Top" blared as the Volunteers (20-6, 9-5) ended a two-game skid.
Alabama became the last Power 5 men's team to lose a conference game this season. The Tide reached No. 1 in the latest poll by The Associated Press on Monday, but its only lead in this game came at 12-11.
Jonas Aidoo had 12 points and 11 rebounds for Tennessee.
Brandon Miller led Alabama with 15 points, Jaden Bradley added 14 and Nimari Burnett had 11.
Plavsic connected on a three-point play to give Tennessee a 56-47 lead with just over five minutes left in the game.
Vescovi tossed a lob that Olivier Nkamhoua caught in mid-air and followed with a slam to put Tennessee ahead 19-15 with 7:42 to play in the first half. It was tied at 29 at the break.