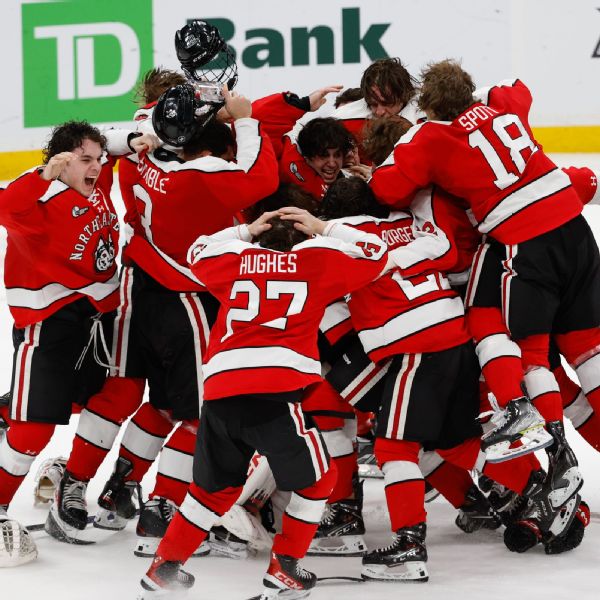 Northeastern outlasted Harvard 3-2 in a shootout Monday night, capturing this year's title in the 70th annual Beanpot Tournament at TD Garden in Boston.
The traditional New England college hockey event, featuring four Boston-area schools across two weeks at the home of the Bruins, did not disappoint this year, as Massachusetts native Aidan McDonough scored the deciding goal in the shootout followed by Huskies goaltender Devon Levi stopping the Crimson's final attempt to secure the crown.
Under the new rules regarding overtime in the Beanpot, this was the first-ever shootout in the tournament, according to ESPN Stats & Information research. The game will be officially ruled a tie in the eyes of the NCAA and the two programs' overall records this season. But for purposes of the tournament — and bragging rights — Northeastern's shootout win suffices for the championship.
If that wasn't historic enough, consider that Monday's matchup was the first time in the history of the tournament that Northeastern (15-10-4) and Harvard (17-7-1) met for the title.
Matthew Coronato, a prospect for the Calgary Flames, scored both goals for Harvard, and teammate Mitchell Gibson made 27 saves in the loss. Levi, a prospect for the Buffalo Sabres, made 32 for the Huskies.
"He's made for these moments," Northeastern coach Jerry Keefe said of Levi on NESN. "A special kid."
McDonough concurred.
"Dev shut the door for us," he said, "as we knew he would."
In Monday's consolation game, played before the final, Boston College (10-12-6) topped rival Boston University 4-2, as the Terriers fell to 20-8-0.
Last week, Marek Hejduk scored two goals, including the game winner with 1.5 seconds left in overtime, as Harvard outlasted Boston College 4-3 in the first semifinal. And then the Huskies defeated Boston University 3-1 in the nightcap, ensuring the historic finale.