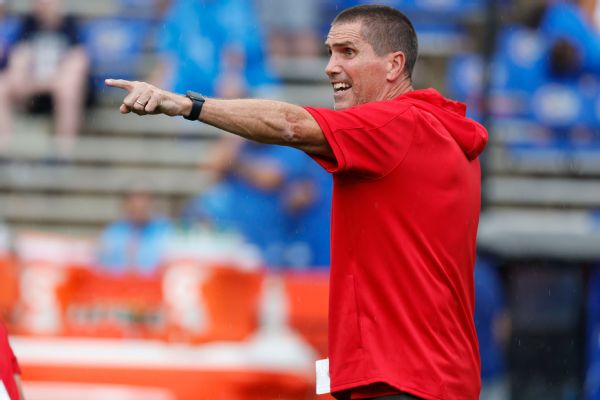 Utah offensive coordinator Andy Ludwig, who interviewed for the same position at Notre Dame, has informed the Irish that he's staying with the Utes, sources told ESPN's Pete Thamel on Monday night.
Sources said that Ludwig's buyout, around $2 million, proved an obstacle in discussions with Notre Dame.
Ludwig, who has spent the past four seasons leading Utah's offense, interviewed in South Bend over the weekend and was considered the leading candidate to replace Tommy Rees, ESPN's Heather Dinich reported Friday.
Notre Dame's search for a new offensive coordinator began earlier this month, when the school learned Rees was joining Nick Saban's staff at Alabama. Sources told Dinich that second-year coach Marcus Freeman is looking for a proven playcaller who can continue to run a pro-style offense and fit seamlessly with the current staff.
At 58, Ludwig's decades of coaching experience were a major factor in the Notre Dame interview process. In his first four-year stint at Utah (2005-08), Ludwig served as offensive coordinator and quarterbacks coach during the Utes' undefeated 2008 season that included a 13-0 record and Sugar Bowl win over Alabama. Prior to that, Ludwig spent three seasons in the same role at Oregon (2002-04). He also has experience as Vanderbilt's offensive coordinator (2015-18) and has had stints at Wisconsin, San Diego State and Cal.
Kansas State offensive coordinator Collin Klein also spoke to the Irish before electing to stay at his alma mater, where he was a Heisman Trophy finalist in 2012.