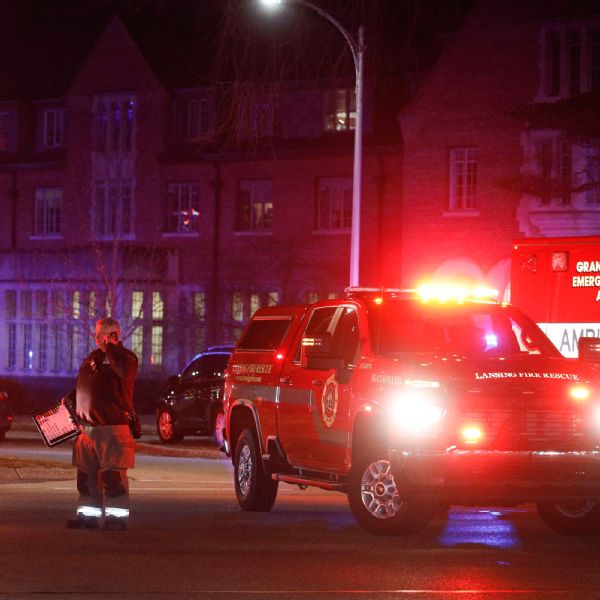 EAST LANSING, Mich. — Police identified the 43-year-old man who killed three students and wounded five at Michigan State University, saying Tuesday that a tip from the public led to a confrontation with officers miles from campus, where the gunman fatally shot himself.
Investigators still were sorting out why Anthony McRae fired inside Berkey Hall and the MSU Union — a popular place to eat and study — shortly before 8:30 pm Monday. The shootings led to a campus lockdown and a manhunt that ended roughly three hours later.
"We have absolutely no idea what the motive was," said Chris Rozman, deputy chief of campus police, adding that McRae was not a student or Michigan State employee. He said police confronted McRae before he killed himself.
MSU police have identified two of the student victims: Brian Fraser, a sophomore from Grosse Pointe, Michigan, and Alexandria Verner, a junior from Clawson, Michigan. The third victim has not been identified at the request of their family.
Grosse Pointe Public Schools superintendent Jon Dean wrote in a letter to parents that the third victim also graduated from a school in the district.
Michigan State will not have any athletic events on campus this week, athletic director Alan Haller told ESPN's Adam Rittenberg on Tuesday. The school is still determining whether its teams will travel for weekend events.
The men's basketball team was scheduled to host Minnesota on Wednesday at 7 pm ET, the men's tennis team was scheduled to host Drake on Wednesday at 5 pm ET, and the women's tennis team was set to host Marshall on Friday.
It was not yet clear if the women's basketball team, which is scheduled to play at Purdue on Wednesday night, would go on.
Interim university President Teresa Woodruff said it would be a time "to think and grieve and come together."
The Big Ten Conference said in a statement that it had been in "consistent contact" with MSU campus leaders.
"The entire conference is holding the Spartan community close to our hearts as we all try to comprehend these senseless acts of violence," the statement read.
University of Michigan President Santa Ono said in a statement that "our hearts are broken" with the MSU family and that many in the UM community "are reeling from this tragedy."
The Detroit Lions offered "prayers and support" to the community.
"Last night our state and community were once again impacted by an act of senseless violence," the team posted on social media. "Our prayers and support as an organization are with the Michigan State community."
The dead and injured were all Michigan State students, Rozman said. Five remained in critical condition at Sparrow Hospital, said Dr. Denny Martin, who fought back tears during a news conference.
"Our Spartan community is reeling today," Gov. Gretchen Whitmer, a Michigan State graduate, said at the briefing.
President Joe Biden pledged his support during a phone call, she said.
"We mourn the loss of beautiful souls and pray for those continuing to fight for their lives. … Another place that is supposed to be about community and togetherness shattered by bullets and bloodshed," Whitmer said.
Michigan State has about 50,000 students, including 19,000 who live on campus.
Information from The Associated Press, and ESPN's Adam Rittenberg was used in this report.