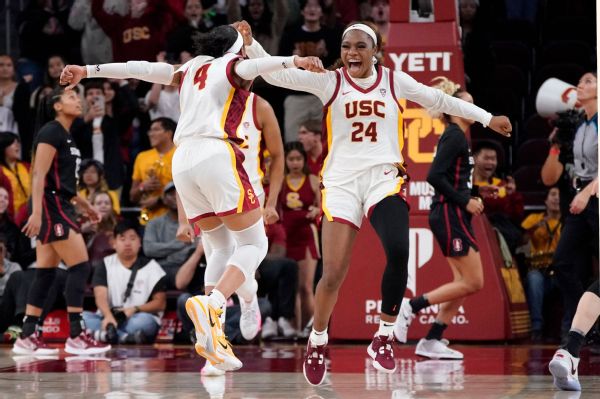 LOS ANGELES — Destiny Littleton scored 18 points and had six assists as Southern California pulled off a program-defining win on Sunday with a 55-46 upset of No. 2 Stanford.
Okako Adika tallied 11 points and 11 rebounds, while Taylor Bigby and Kayla Williams added nine points each as the Trojans set the tone with their defense and held on late to end a 14-game losing streak against the Cardinal, who had won 51 straight against unranked opponents.
It was USC's first victory over Stanford since the 2014 Pac-12 tournament.
"I just thought we really took care of business this weekend, which is the understatement of the century," USC coach Lindsay Gottlieb said. "Stanford is so good. They're No. 2 in the country. I thought we executed the game plan, were super tough and made plays the whole game. I haven't even looked at the stat sheet, because who cares, right ?"
USC (13-4, 3-3 Pac-12) held Stanford to four points in the first quarter, its lowest for any period this season. The Trojans led by as many as 11 points early in the fourth quarter before closing out the victory, eight days after a heartbreaking one-point loss to then-No. 12 UCLA.
Cameron Brink registered 11 points and 14 rebounds for Stanford (17-2, 5-1), which saw its 12-game winning streak come to a halt. The defeat also ended the Cardinal's 39-game winning streak over Pac-12 competition.
Haley Jones had 12 rebounds for Stanford but was held to eight points after entering the contest with 13.3 per game.
"It wasn't just turnovers; it was bad shots," Stanford coach Tara VanDerveer said. "I don't know that we can do anything any worse. This has to be rock bottom in terms of execution offensively, lack of screening. They got to the free throw line 26 times. Even with all of those bad things, it was a six-point game with three, four minutes left."
Stanford held USC to 27.3% shooting from the field, but the Trojans made up the difference by going 8-of-19 from 3-point range and making 17 of 26 free throws. Stanford was 4-of-21 from distance and 8-of-10 from the foul line.
USC looked up for the task early with a suffocating defense that forced six turnovers in the first quarter and held Stanford to 2-of-10 shooting in the opening 10 minutes while taking an 11-4 lead.
Stanford rallied to tie the game 19-19 with 1:09 left in the first half before a five-point USC burst put the Trojans up 24-19 at the break.
USC made a statement to close the third quarter. Clarice Akunwafo blocked Lauren Betts' shot with three seconds left in the period. Williams then used the time to get into the front court and drain a 24-footer at the buzzer for a 43-33 advantage, USC's largest of the game to that point.
"[Akunwafo] showed up today, and she got that key block. I will remember it forever," said Littleton, a South Carolina transfer in her first season at USC. "It was a momentum swing, and we came down and hit a 3. That was because of [Akunwafo]."
USC almost held Stanford to single digits in the fourth quarter, as well, allowing 13, with four of those coming in the closing seconds. The only other time Stanford was held to single digits in a quarter this season was a seven-point performance in the fourth in its only other defeat, against South Carolina on Nov. 20.
"We haven't shot the ball really well in the last couple of games," VanDerveer said. "But we have to be grittier. I just feel like we have to be a much more competitive, aggressive, grittier team. Obviously, some shots didn't go down, but maybe it's taking better shots. Our field goal percentage [30.9%] was abysmal, and theirs was not much better."