The break between the Champions League group stage and knockout rounds always feels a bit strange. The competition drives and dictates the European soccer season to the point where we follow the top-four races in the top leagues as closely as we do the title races — or more so, due to the competitiveness of such races — but we typically take an approximately two-month break from the competition in the winter months. This year, said break was 3½ months.
A lot's gone on in the soccer world since Nov. 2, when RB Leipzig and AC Milan stomped Shakhtar Donetsk and Salzburg, respectively, to claim the final spots in the round of 16. Barcelona established full control of LaLiga's title race … after getting eliminated from the Champions League. Arsenal maintained its edge on the field in the Premier League. Bayern Munich pulled away from the Bundesliga field, only to get reeled back in a bit. Chelsea and Liverpool went from wobbly to worse. Manchester United released its most famous player and immediately surged. Oh yeah, and the entire club soccer world paused for weeks while Lionel Messi and Argentina won the World Cup.
– Stream on ESPN+: LaLiga, Bundesliga & more (U.S.)
But now the competition's back, and damn if the pecking order doesn't seem a little blurry. From both betting and odds perspectives, Manchester City and Bayern are the clear favorites, but the former has won just three of its last six matches in all competitions, the latter one of four. PSG has lost Kylian Mbappe to injury in the short term and has shown spotty road form since returning to action.
Real Madrid is banged up. Liverpool and Chelsea are playing like mid-table Premier League teams, which they are. Benfica, good enough to top PSG in Group H last fall, lost its most exciting young player (midfielder Enzo Fernandez) to a big-money transfer in late January.
It's all a bit of a mess. Of the top seven or eight favorites heading into the round of 16, only one, Napoli, is playing all that well. Will that lead to some shocking results over the next couple of weeks? Will the sport's sleepwalking big names use the Champions League as a shot in the arm and find fifth gear again? We're about to find out.
To brace ourselves for the midweek matches ahead, let's walk through the remaining field. Who's favored? Why might each team win the competition? What's each team's most fatal flaw?
The action begins on Tuesday in Milan (Tottenham Hotspur at AC Milan) and Paris (Bayern at PSG).
---
The favorites
Manchester City
Caesars and FiveThirtyEight odds: +170 (equivalent to 37%) and 19%, respectively
Round of 16 opponent: RB Leipzig (Feb. 22 and March 14)
Why they will win: They might still be the best team in Europe. Erling Haaland has produced as expected (31 goals in 28 matches) since arriving last summer. But installing him at the top of City's attack has in some ways stifled its flow and creativity.
There have been just enough iffy results of late — a 2-0 loss to Southampton in the League Cup, recent one-goal defeats to Manchester United and Tottenham Hotspur — to keep the Sky Blues five points back in the Premier League title race and prompt a series of "Is City worse off with Haaland?" takes. In this same iffy time period, however, they've scored wins over Arsenal and Chelsea (twice), and they've still averaged nearly two goals per match in all competitions since the restart.
Caesars still lists them as overwhelming Champions League favorites. For all of their wonky form, they still have Haaland, World Cup hero Julian Alvarez, Kevin De Bruyne, Bernardo Silva and some of the best and most creative attacking talent in Europe.
Why they won't: Pep's in Tinker Mode. Pep Guardiola is searching for solutions to City's stolidness at the moment and with the pieces to hand, he'll probably find them. He hasn't yet, though, and his tinkering is taking City to weird places. Joao Cancelo found himself out of favor and took a surprise loan to Bayern. De Bruyne, City's engine, started the Spurs loss on the bench for "tactical reasons."
City's formation against Spurs was rather indecipherable — it was kind of a 4-2-3-1, kind of a 4-4-2, kind of a 4-1-2-1-2, kind of a 3-2-3-2 — and produced a passing map that could best be described as "What the hell is this?"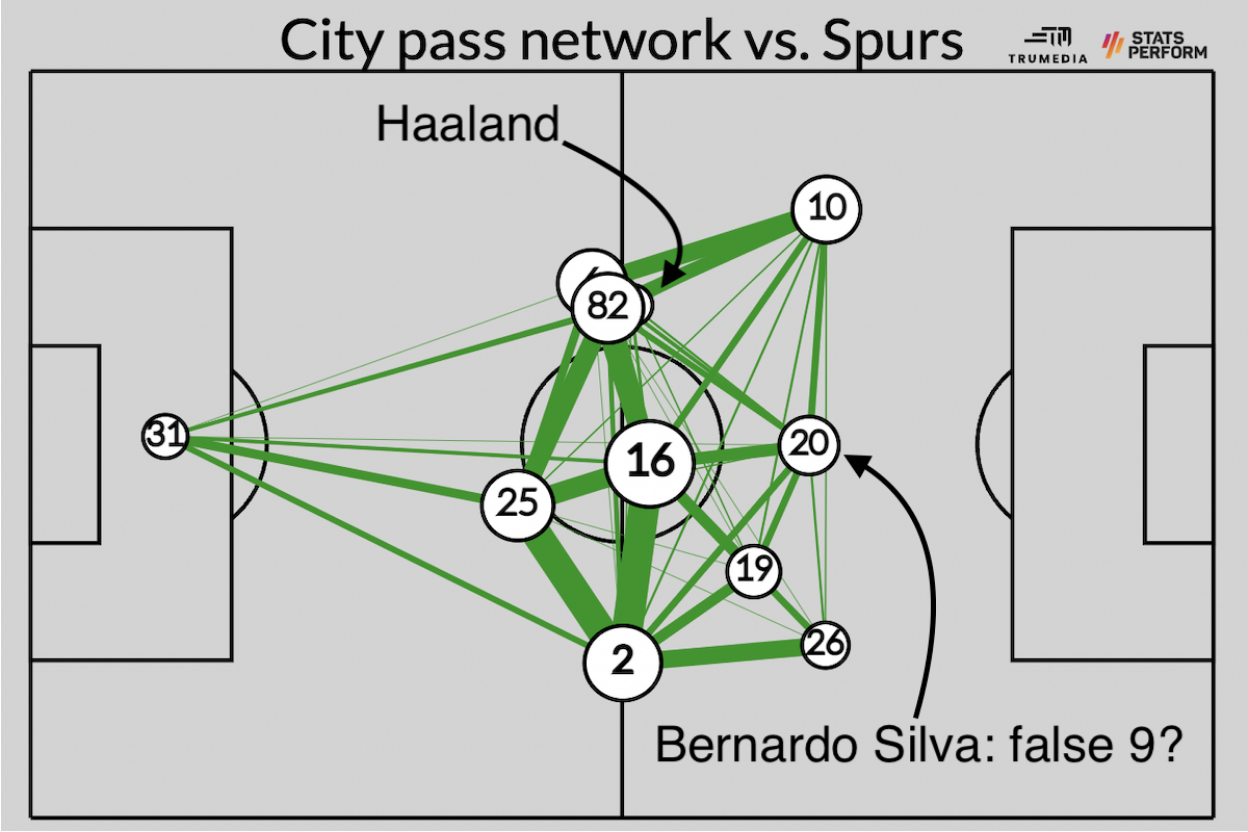 First-year City additions have often taken a while to gel and despite his productivity (which forces Guardiola to keep him in the lineup at all times), Haaland is no different. Guardiola will inevitably find the answers he's looking for, but Leipzig is catching the Sky Blues at a pretty vulnerable time.
---
Bayern Munich
Caesars and FiveThirtyEight odds: +600 (equivalent to 14%) and 22%
Round of 16 opponent: PSG (Feb. 14 and March 8)
Why they will win: They still have the most attacking upside in the world. When Bayern began its restart with a trio of 1-1 draws and a number of contenders inched closer to the 10-time defending Bundesliga champions at the top of the table, we overreacted as we always do to brief runs of mortal form. They miss Robert Lewandowski too much! The team chemistry is awful! Julian Nagelsmann is going to get canned if they lose to PSG!
Granted, that last part might still be on the table, but Bayern responded to this complete and utter collapse by torching Mainz and Wolfsburg by a combined 8-2. Their attention span waned against Wolfsburg and they almost let their opponents back in the match, but Jamal Musiala put things away with an otherworldly one-man show.
MUSIALA ALL BY HIMSELF 🤯🔥 pic.twitter.com/dCSuFF0hb4

— ESPN FC (@ESPNFC) February 5, 2023
For all of Bayern's supposed struggles, Musiala still has 14 goals and nine assists in all competitions, while Serge Gnabry has 10 and 10 and three other players have combined double-digit goals with at least four assists. (None of them are Thomas Muller or Kingsley Coman, who combined for three of the goals against Wolfsburg.)
This might not be 2020-level Bayern, but in a sea of contenders performing beneath their full capabilities, the German champs remain absurdly dangerous. (They have Cancelo now, too, who already has two assists in just 149 minutes.) And they should get the injured Sadio Mane back by the time the second leg against PSG rolls around.
Why they won't: Opponents take better shots. This team boasts some of the most impressive finishing skill in the world, but without Lewandowski as a center of gravity up front, Bayern's raw shot quality has suffered a bit. While they still attempt far more shots than anyone in the Bundesliga (0.20 per possession), their 0.11 xG per shot ranks only 10th in the Bundesliga; league opponents, meanwhile, are averaging 0.12 xG per shot (14th).
Is that a huge difference? No, but with Leo Messi, Neymar and (for the second leg, at least) Kylian Mbappe on deck, shot quality could quickly become a massive issue in Bayern's quest for a seventh European crown.
---
The hopefuls
Paris Saint-Germain
Caesars and FiveThirtyEight odds: +700 (equivalent to 13%) and 5%
Round of 16 opponent: Bayern Munich (February 14 and March 8)
Why they will win: The sum of the parts is still overwhelming. Messi. Neymar. Mbappe (eventually). Achraf Hakimi. Gianluigi Donnarumma. Marco Verratti. You get the point. When PSG ignite, it's pretty jaw-dropping.
They began the season outscoring their first six league opponents by a combined 24-4. Despite long battles with an iffy attention span — plus injuries and a long easing-in process for stars following the World Cup — they've still scored 85 goals and allowed just 27 in 32 matches. The three stars up front have 57 goals and 35 assists between them. The whole never seems to match the sum of the parts, but that doesn't mean the sum isn't immense.
Why they won't: We've been down this road before. There's a pretty reliable script for how a team with this many stars falls apart at the wrong time. First, because of injuries and load management (among other things) the three scorers aren't all on the field together much: Mbappe, Messi and Neymar have all played in just 17 of 32 matches. Second, the midfield's duties become overwhelming with the absence of any pressing presence up front. Third, the depth of talent still isn't what other clubs can boast, and aging veterans like Sergio Ramos (36), Verratti (30) and Juan Bernat (29) are being asked to play heavy minutes.
Laurens: Messi and PSG 'weren't very good' in loss to Marseille
Julien Laurens recaps Paris Saint-Germain's loss to Marseille in the Coupe de France Round of 16.
PSG brought in no new blood in the winter transfer window, while Marquinhos, Ramos and defender Presnel Kimpembe have all been in iffy form of late. They have only the third-best xG differential in Ligue 1 since the restart, they've lost to Lens, Rennes and Marseille on the road since Jan. 1, and while Mbappe will return for the second leg against Bayern, his absence in the home leg could put them in a bad position heading to Munich.
---
Real Madrid
Caesars and FiveThirtyEight odds: +1100 (equivalent to 8%) and 9%
Round of 16 opponent: Liverpool (Feb. 21 and March 15)
Why they will win: Come on, they're Real Madrid. If any team in this competition gets the benefit of the doubt, it's the defending (and 14-time) champions. The Blancos have been waylaid by injury of late; defenders Eder Militao, Ferland Mendy and Lucas Vazquez and (of course) midfielder Eden Hazard are out, while both forward (and reigning Ballon d'Or winner) Karim Benzema and goalkeeper Thibaut Courtois have missed significant time. They had to jet to Morocco for the Club World Cup — they beat Al Ahly on Wednesday and will face surprise finalist Al-Hilal on Saturday — and their visit to Liverpool on Feb. 21 will be their 37th match of the season already. (Real Madrid players also topped 3,500 combined minutes at the World Cup.)
But … they're Real Madrid! When they have to show up, they still show up in force. Benzema is rounding into form — he has two goals and two assists in his past four matches — and while they were only the third- or fourth-best team on paper in last year's Champions League, they beat PSG, Chelsea, Manchester City and Liverpool in succession, always putting together a charge when a charge was required. Until they don't, let's assume they still will.
Why Vinicius Jr. is so important to Real Madrid right now
Alejandro Moreno and Shaka Hislop discuss Vinicius Jr.'s performance vs. Mallorca.
Why they won't: There is a wear-and-tear limit here. Read that first paragraph again. This team is getting pushed around by age, injury and volume. They're scoring less than they did last season, and their close-game magic has dissipated. Before leaving for Morocco, they had won just three of their last nine matches in Spain. Vinicius Junior is the only steady presence in the lineup, and he's getting fouled and abused more than anyone in the game. This is a lot, even for Real Madrid.
---
Napoli
Caesars and FiveThirtyEight odds: +1100 (equivalent to 8%) and 8%
Round of 16 opponent: Eintracht Frankfurt (Feb. 21 and March 15)
Why they will win: Who's playing better right now? They lead Serie A by 13 points, having scored 10 more goals than anyone else while allowing the fewest. They outscored their first five Champions League opponents, including Liverpool and Ajax (twice), by a combined 20-4. Victor Osimhen has 20 goals and 17 assists in 21 matches, and revelatory 21-year old winger Khvicha Kvaratskhelia has 10 and 12 in 22.
Luciano Spalletti's squad tilts the field and dominates possession like a Champions League contender is supposed to do, but they've been nearly invulnerable to counter-attacks. They dominate set pieces, too.
Looking solely at production levels and not Transfermarkt player values, you could pretty easily conclude that this is, at worst, one of the two or three best teams in Europe. And while they've faced very little adversity this season, they've responded well to what they've faced: Their goal differential when trailing in league play is +4.2 per 90 possessions, as good as you'll ever see, and after losing to Inter in their first game after the World Cup break, they proceeded to destroy Juventus 5-1 and win five straight league matches.
This team is a wrecking ball, and while it's always fair to wonder if Cinderella's carriage will turn into a pumpkin at some point, they've given us no reason to doubt them yet.
Why they won't: Schedule strength. With AC Milan's recent collapse, Napoli have played only five matches this season against teams in the current top 20 of FiveThirtyEight's SPI ratings. They won their first three in resounding fashion — 4-1 over No. 8 Liverpool, then 6-1 and 4-2 over No. 15 Ajax — but Liverpool got revenge with a 2-0 win in the group stage finale, and No. 18 Inter indeed beat them 1-0 on Jan. 4. Their attack is drastically reliant on two players, and as the schedule strength increases, they might find their opportunities to score dwindling quickly.
---
Liverpool
Caesars and FiveThirtyEight odds: +900 (equivalent to 10%) and 5%
Round of 16 opponent: Real Madrid (Feb. 21 and March 15)
Why they will win: They still attempt far more shots than you (and regression to the mean is real). Jurgen Klopp's Reds are suffering some serious issues right now, issues that go beyond suffering some bad breaks here and there.
They have suffered a few bad breaks, though. They're sixth in the Premier League in xG differential (only decimal points out of fourth), and they still have the third-best attack in the league. They'll likely finish the season higher in the table than they currently are.
– O'Hanlon: Why Liverpool's latest struggles feel different (E+)
Since the season began, Liverpool has beaten Manchester City (twice), Napoli, Newcastle, Spurs and Ajax (twice). The upside is there, even if they aren't showing it as much, and despite their pressure numbers suffering as they battle injury and midfield age and break in key new pieces up front, they still overwhelm you from a volume perspective: In Premier League play, they have attempted 0.17 shots per possession (third in the league) and allowed only 0.10 (third). That's six to seven more shots per match.
They don't create enough high-quality looks and they give you too many, but if you don't convert those chances, they'll still take you down. That becomes doubly true if or when key attackers snap out of finishing slumps — Mo Salah, Darwin Nunez and newcomer Cody Gakpo have combined to score just four goals from shots worth 8.3 xG since the restart. That won't last.
Hislop: Klopp has to get the best out of Liverpool
Shaka Hislop thinks Jurgen Klopp needs to try other formations to get the best out of his team.
Why they won't: No good team has worse transition defense at the moment. Okay, they don't just give you too many good looks, they give you too many great looks. Of the teams in the current SPI top 20, no one comes close to the 0.14 xG per shot that Liverpool allows in league play, and no one allows as many goals in what I call "transition possessions" — possessions that start outside the attacking third and last fewer than 20 seconds.
As was the case two seasons ago during a run of center-back injuries, Liverpool is just getting shredded in transition. Not even shot quantity advantages can overcome that.
---
Chelsea
Caesars and FiveThirtyEight odds: +1400 (equivalent to 7%) and 5%
Round of 16 opponent: Borussia Dortmund (Feb. 15 and March 7)
Why they will win: They're unscoutable? In their first match after the winter transfer window closed, a 0-0 draw with Fulham, Graham Potter deployed 16 players, including substitutes. Five of them had been added to the roster in January (Enzo Fernandez, Benoit Badiashile, Mykhaylo Mudryk, Noni Madueke, David Datro Fofana), two more were added in the summer (Marc Cucurella, Raheem Sterling) and one returned from loan over the summer (Conor Gallagher). Two more newcomers (Kalidou Koulibaly, Carney Chukwuemeka) sat on the bench, and four others have recorded at least 300 minutes this season.
This is as new a team as you'll ever see in the Champions League knockout stages. That they made it here with ease — after an initial upset loss to Dinamo Zagreb (which led to Thomas Tuchel's firing), they didn't lose again in the group stage — is a reminder of their upside, as is the fact that they still have many of the players from 2021's Champions League title run.
Things clearly haven't clicked for Potter, and this overwhelming newness hasn't helped in that regard, but it's going to be awfully hard to scout and predict what Chelsea will do moving forward, and if they ever find a rhythm, they could make an unexpected run.
Could Aubameyang move to LAFC?
Herc Gomez feels Pierre-Emerick Aubameyang would have a lot to offer should he decide to leave Chelsea to play in MLS.
Why they won't: They're the 10th-best team in England. Chelsea is ninth in the EPL table and 10th in both goal differential and xG differential. They've beaten only Bournemouth and Crystal Palace since the restart, and wins by 2-1 over Salzburg and 2-1 over West Ham are their only victories against teams ranked in even the SPI top 35 this season. They've played six matches against the current Premier League top four, and they've taken a single point while getting outscored 10-1.
This isn't an out-of-rhythm team that's hinted at massive upside this season; it's just a plain old midtable Premier League team. Why would that suddenly change next week?
---
Benfica
Caesars and FiveThirtyEight odds: +1800 (equivalent to 5%) and 7%
Round of 16 opponent: Club Brugge (Feb. 15 and March 7)
Why they will win: Roger Schmidt has what he needs. We're used to the best teams in Portugal faring pretty well in the Champions League. At least one Portuguese team has reached the round of 16 in seven of the past eight seasons (two did in 2021-22), and at least one has reached the quarterfinals in three of the past four. Porto came achingly close to the semis in 2021, and now Benfica is favored to advance over Club Brugge.
However, that gives short shrift to how good Benfica has been this season. They rolled unbeaten through Group H, drawing twice with PSG and beating Juventus twice in the process. (Their superior road goal total gave them first place over PSG.) In the Primeira Liga, they lost to Braga in their first post-World Cup match, but have otherwise dropped just four total points. Porto has done very little wrong this season, but trails Benfica by eight points all the same.
First-year manager Roger Schmidt has been able to install his ball-dominant philosophy without any bumps, and even after losing Darwin Nunez to Liverpool over the summer, they have boasted easily the most potent attack in the league. Three players have scored double-digit goals in all competitions (led by 21-year old Goncalo Ramos' 17), and three have at least eight assists. This is a beautiful team to watch, and the battles with PSG proved they have the upside to trade blows with the big boys in this competition.
Why they won't: Schmidt doesn't have Enzo anymore. Chelsea eventually made an offer that Benfica couldn't refuse, and Fernandez moved to the Premier League on a €121 million transfer on Jan. 31. While he contributed a modest four goals and six assists in all competitions, he was the table-setter, providing steady deep progressions while fulfilling all of the key transition roles a defensive midfielder must fulfill.
Benfica beat Casa Pia 3-0 in its first post-Enzo match, but this still isn't the Benfica team we saw in the fall. That's a damn shame.
---
Tottenham
Caesars and FiveThirtyEight odds: +1600 (equivalent to 6%) and 5%
Round of 16 opponent: AC Milan (Feb. 14 and March 8)
Why they will win: They absorb pressure. The eight teams mentioned above Spurs here average a possession rate of 62% in league play, occupy 65% of the attacking-third touches in their matches and average 6.9 passes per possession between them. They aren't identical, but there are more similarities than differences among the group; the richest and best European club teams all play the possession game.
If you're looking for a team from the bottom half of this list that is particularly well-suited to make a Champions League run, would you look for others that play that style (but might not be as good at it)? Or would you look for someone who absorbs opponents' possession and looks for counter-attacking opportunities?
The difference between Hugo Lloris and Fraser Forster
Shaka Hislop explains the differences between Tottenham goalkeepers Hugo Lloris and Fraser Forster and the importance of the team understanding their positions.
Antonio Conte's Spurs enjoy just a 50.1% possession rate in league play, and opponents occupy 56% of the total touches in the attacking third, typically against a packed-in Tottenham defense. Of the teams remaining in this field, no one is more dedicated to winning without the ball, and almost no one allows fewer high-quality scoring chances. They have been inconsistent this season, but they've shown enough upside to rank fifth in the Premier League (one point outside the top four), win their Champions League group and score a recent win over Manchester City.
Harry Kane has been excellent as always (19 goals, plus a team-leading 49 chances created in 30 matches), Son Heung-Min seems to be rounding into form, and if you're looking for a curveball team on this list, then Glory, Glory, Tottenham Hotspur.
Why they won't: Shouldn't they be better in transition? For a pressure-absorbing team, Spurs certainly don't dominate in the counter-attacking department. In the transition possessions defined above, they are averaging just 0.3 goals per game (13th in the Premier League) and allowing 0.4 (10th). Is this a strong anti-possession team, or a team battling identity issues?
---
The longshots
Inter Milan
Caesars and FiveThirtyEight odds: +2500 (equivalent to 4%) and 3%
Round of 16 opponent: Porto (Feb. 22 and March 14)
Why they will win: They don't have a clear, damning weakness. Inter is piecing together the ultimate Deceptively Awesome Year at the moment. They're second in Serie A, ahead of Jose Mourinho's Roma and derby rival AC Milan among others. They finished second in their Champions League group, ushering Barcelona from the competition with a 1-0 home win and a wild 3-3 road draw. They're into the semifinals of the Coppa Italia, and they crushed AC Milan to win the Supercoppa Italiana.
They've also gotten almost no help from new additions — headliner Romelu Lukaku has contributed only two goals and 471 injury-plagued minutes, and the only newcomers to have topped 1,000 minutes thus far are 34-year olds (midfielder Henrikh Mkhitaryan and defender Francesco Acerbi). But they've beaten Barca and Napoli, and have a squad with no obvious weakest links. In attack, they're second in shots per possession, sixth in xG per shot and fourth in average postshot xG for shots on target; in defense, they're seventh, second and fifth. They've got a positive goal differential in both set pieces and transition possessions. They're just good.
Are they the best in Europe? No, but they're definitely good enough to win any given tie they face.
Why they won't: They also don't have a clear, elite strength. Lautaro Martinez and Milan Skriniar are awesome, but there are better forwards and defenders, respectively, in this tournament. Their attack is good, but most in this field are as good or better. Their defense is better than Liverpool's and most of the Bundesliga teams left in the field, but it's not amazing.
Inter's good at pretty much everything and great at nothing, and I don't know how you win four rounds of this competition without a specific player or trait to lean on. You have to stand out in some way over the course of 180 minutes, right?
---
FC Porto
Caesars and FiveThirtyEight odds: +6000 (equivalent to 2%) and 5%
Round of 16 opponent: Inter Milan (Feb. 22 and March 14)
Why they will win: They've been Benfica's equal of late. If Benfica has more upside than the typical round-of-16 team from Portugal this season, it's easy to view Porto as the more customary Portuguese team, one that advances to the knockouts only to bow out quietly. But since a 1-0 loss to Benfica in October, it sure seems like they've been more than that. Sergio Conceicao's squad has dropped only two points from its last eight league matches, has already won Portugal's Taca da Liga and won its last four Champions League group matches by a combined 11-1. Top xG differentials in Primeira Liga play since the restart: Benfica at +1.76 per match and Porto at a nearly equal +1.71.
After stuttering following the summer departures of Fabio Vieira (to Arsenal) and Vitinha (to PSG), they've built an outstanding rhythm around mostly 25-and-older veterans. Forward Mehdi Taremi and left winger/midfielder Galeno have combined for 26 goals and 10 assists in all competitions, and the center-back trio of Fabio Cardoso (28), Ivan Marcano (35) and the immortal Pepe (39) still gets the job done.
Why they won't: We have no idea how they'll fare against top teams because they haven't played any. They won their Champions League group by topping Atletico Madrid (now 21st in SPI), Bayer Leverkusen (34th) and Club Brugge (99th). Their only match against a top-20 team was the aforementioned loss to Benfica, in which they were doubled up in terms of both possession (Benfica 69%) and xG value (Benfica 1.9, Porto 0.9). Now, they were dealing with an early red card in that match, and it sure seems like they've improved since, but until they top a high-level team, we don't know that they can. That sure seems like something that needs to have been crossed off the to-do before February.
---
RB Leipzig
Caesars and FiveThirtyEight odds: +6000 (equivalent to 2%) and 4%
Round of 16 opponent: Manchester City (Feb. 22 and March 14)
Why they will win: How many teams are really playing better right now? If RB Leipzig is able to upset Manchester City, eliminating the supposed best team remaining in the Champions League to advance to the quarterfinals, tell me why they can't go all the way?
Since the restart, RBL has gone unbeaten in five matches, drawing 1-1 with Bayern (in a match that saw them generate more shots and xG, no less) and outscoring four other opponents by a combined 11-3. The veteran center-forward duo of Andre Silva and Timo Werner has found a lovely rhythm, and the midfield duo of Dominik Szoboszlai and Konrad Laimer has been at its creative best. Summer addition Xaver Schlager has been a ball recoveries machine in defensive midfield, and the center-back duo of Willi Orban and Josko Gvardiol has kept pressure off of goalkeeper Janis Blaswich.
This team has reached its highest ebb since hiring Marco Rose in September, and it's done so despite injuries to goalkeeper Peter Gulacsi (out for the season), attacking midfielder Dani Olmo (out for a few weeks) and, oh yeah, defending Bundesliga player of the year Christopher Nkunku.
The France star scored 17 goals in 23 matches before the World Cup break, but has missed action ever since with a knee injury; the latest updates suggest he could be back by the time City visits on February 22.
Why they won't: They only give up good shots. RBL allows only 0.10 shots per possession in league play, only slightly more than Bayern or Manchester City but less than most of the teams in the round of 16. But 10.1% of those shots have been worth at least 0.3 xG; only Liverpool has been worse in that regard. Now, the Red Bulls' own shot quality tends to be pretty high, too, but you only have to ask Liverpool what can happen if you give your opponents one too many high-quality chances.
---
Borussia Dortmund
Caesars and FiveThirtyEight odds: +4000 (equivalent to 2%) and 3%
Round of 16 opponent: Chelsea (Feb. 15 and March 7)
Why they will win: They're tough now! For years, Borussia Dortmund has attempted to fill its squad with ridiculously high-upside young players while supplementing the lineup with the right amount of veteran-osity. For every Erling Haaland or Jude Bellingham, there's been a Mats Hummels or Emre Can. That balance has been extremely difficult to achieve: BVB is always good, but never quite as great as it hopes.
Since the restart, however, BVB has won all five of its matches in 2023, outscoring opponents 15-6 and moving to within three points of Bayern in the Bundesliga table. Bellingham, fellow youngsters Karim Adeyemi and Gio Reyna and veterans Julian Brandt and Raphael Guerreiro have all been awesome, but it's difficult not to notice the toughness infusion they seem to have gotten from the additions of Sebastien Haller up front and Julian Ryerson at fullback.
Haller, 29, was intended to be a ready-made Haaland replacement, but missed the fall and winter while battling testicular cancer; he's back, and he scored against Freiburg over the weekend. Ryerson came to Dortmund from Union Berlin and has added a clear and obvious shot of Union-ness, cutting off transitions with aplomb and pushing the tempo with progressive carries. Captain Marco Reus has been dialed in since returning from injury, too.
Bellingham, Adeyemi, Reyna, Youssoufa Moukoko, Jamie Bynoe-Gittens and others give BVB all the youthful upside they could want, and the veteran-osity is off the charts. Is the balance finally right?
Why they won't: Worst transition team in the field. For all their upside and willingness to push the tempo, BVB has averaged just 0.26 goals per match in transition possessions this season; of those in the round of 16, only Chelsea, their round-of-16 opponent, has averaged fewer. Meanwhile, they have allowed 0.47 such goals per match, second-most behind only Liverpool. That gives them by far the worst goal differential in the round of 16. They push for a pretty open match, and it quite often backfires. Maybe it won't against the Blues, but it probably will eventually.
---
AC Milan
Caesars and FiveThirtyEight odds: +3500 (equivalent to 3%) and
Round of 16 opponent: Tottenham Hotspur (Feb. 14 and March 8)
Why they will win: Nothing like continental play to give you a nice shot in the arm. A soccer season is a marathon, and over the course of more than nine months, just about any team will have to deal with a dip in form. Stefano Pioli's Rossoneri have lost four straight matches by a combined 13-2, and they haven't won since their first post-restart match on January 4. The attack has regressed, and the defense has cratered without injured defender Fikayo Tomori and goalkeeper Mike Maignan.
The defending Scudetto winners are in horrendous form at the moment. But form changes! And Milan's full-season averages still show us an aggressive team — fourth in shots per possession in Serie A, second in passes allowed per defensive action (PPDA, a common measure of defensive assertiveness) — that generates far more touches in the box than it allows. Maignan is definitely out for the first Spurs match, and that's an obvious hindrance. But fading teams have used the Champions League as a shot in the arm before, and if Milan can get its head right, the team still has a lot to offer, from Rafael Leao and Olivier Giroud up front to the active-as-hell duo of Sandro Tonali and Ismael Bennacer (returning from injury soon) in midfield.
Why they won't: Have you seen them play lately? Was that last paragraph convincing? I'm not sure it was. Good teams deal with dips in form, but this is an outright collapse. Getting players like Bennacer and Tomori back will help, but Milan was already struggling before they got hurt, and … again … they've allowed 13 goals in their last four matches! Leao is still trying to make things happen, and there's still obvious talent on the pitch, but things are genuinely dire at the moment.
---
Eintracht Frankfurt
Caesars and FiveThirtyEight odds: +10000 (equivalent to 1%) and 1%
Round of 16 opponent: Napoli (Feb. 21 and March 15)
Why they will win: They might have the best player in Europe right now. Yep, Randall Kolo Muani is that good.
Why they won't: The field is tilted against them. Getting the worst draw for the last 16 isn't their fault, but it is their problem.
---
The longest long shots
Club Brugge
Caesars and FiveThirtyEight odds: +15000 (equivalent to 0.7%) and
Round of 16 opponent: Benfica (Feb. 15 and March 7)
Why they will win: Super fun young guys with nothing to lose. (And Simon Mignolet's been superhuman between the posts.) This is "house money" territory and that fearlessness can be an asset when trying to spring a shock.
Why they won't: They're the fourth-best team in Belgium. And that's not great preparation for the top European competition.