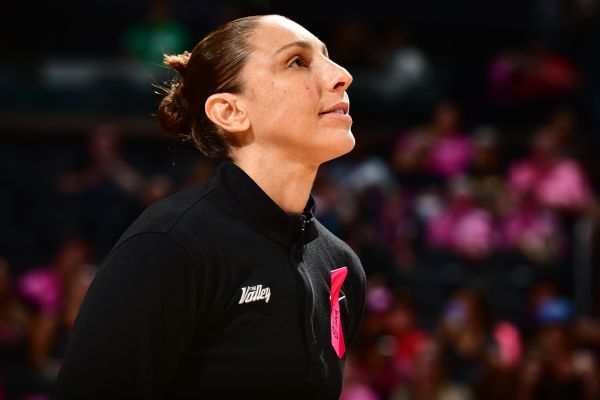 PHOENIX — Diana Taurasi, the WNBA's all-time leading scorer, signed a multiyear contract to return to the Phoenix Mercury for at least a 19th season in 2023, the team announced Saturday morning.
Taurasi, 40, said Feb. 7 that her intention was to re-sign with the only team she has played for but added that there was a possibility she could end up elsewhere during this round of free agency.
Saturday's announcement ended that speculation.
"Diana Taurasi belongs in a Mercury uniform, and we are grateful for the continued faith she demonstrates in our organization by returning year after year," Mercury general manager Jim Pitman said. "The way she prepares her body, how much she cares about winning, and how much she cares about our franchise — on and off the court — are just a few of the things that make her a transcendent athlete and quite literally the greatest too all the time.
"We look forward to more accolades, more historic moments, and more wins."
Taurasi's return puts her in line to play again with Brittney Griner if Griner re-signs with the Mercury, which she announced was her intention in an Instagram post on Dec. 16.
Taurasi is coming off a tumultuous season that was marked by Griner's absence. However, the season ended with a 10th straight trip to the playoffs. Taurasi averaged her most minutes per game since 2013, going against then-first-year head coach Vanessa Nygaard's plans for the 10-time WNBA All-Star.
Taurasi finished the season averaging 16.7 points, 3.8 assists and 3.4 rebounds. She made 92 3-pointers in 2022, which was the second most in the league. A player has made at least 90 3-pointers in a season six times in WNBA history, and Taurasi is responsible for five of them.
She also became the first WNBA player to have a 30-point game at age 40; Michael Jordan and Dirk Nowitzki are the only NBA players to accomplish that feat.
She's a three-time WNBA champion and five-time Olympic gold medalist who has not closed the door on playing in Paris in 2024 in an attempt to win a record sixth gold medal. Earlier this month, Taurasi attended a USA Basketball minicamp in Minneapolis.
Her name is imprinted throughout the WNBA record book.
She's the league's all-time leader in scoring, with 9,693 points, and in 3-point field goals. In addition to the career scoring record, she also has the WNBA record for playoff scoring and single-season scoring. She has the top seven single-season 3-point totals in WNBA history.
Taurasi also holds, either outright or with another player, 16 Mercury records: seasons, games played, games started, minutes played, points scored, scoring average, field goals made, field goal attempts, 3-pointers made, 3-point attempts, free throws made, free throw attempts, defensive rebounds, assists, steals and championships.